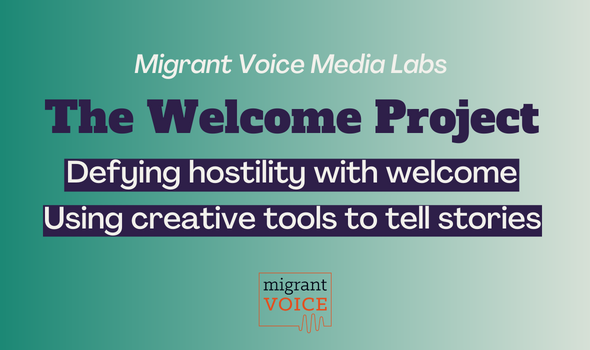 At a time of negative rhetoric and policies on migration, Migrant Voice has launched a new project through which we will be creating messages of welcome to migrants.
Our Welcome Project will use creative tools such as photography, drama, and creative writing to express our ideas and experience of welcome.
There is a lot of hostile language being used to speak about migrants or migration and a lot of policies that are making it harder for asylum seekers, refugees and migrants. These words and actions also sometimes feel dehumanising.
This project is our way to send an alternative welcoming message to migrants.
As part of our work to build understanding, and a positive narrative and environment on migration, this project will create photos and writing, and short filmed drama scenes for an online exhibition.
Join our project if you would like to:
Explore using photography, creative writing, and drama to share our messages
Discuss how to make society more welcoming to migrants
Get to know new people
Create photos, writing and other creative messages for an online exhibition
Everyone is invited! To engage with about the idea of 'welcome', to share your own thoughts, to learn, to communicate, and build a social network. Our doors are wide open, and you are most welcome! Please join us and spread the word about the project.
Timeline of activities
(Some dates may be subject to change)
10 August - Bring your work in progress for feedback and mentoring (photo mentoring)
21 September - Second creative writing session + Feedback and mentoring session: bring your work in progress (photos, drama, writing)
5 October - Third creative writing session + feedback and mentoring session: bring your work in progress (photos, drama, writing)
12 October - Feedback and mentoring session: bring your work in progress (photos, drama, writing) – First submission of work
26 October - Final submission of work for the exhibition
November - Celebration
18 December - International Migrants Day

A perspective from a Migrant Voice volunteer and participant
Words build their way to people's minds, but creative tools pave an unrestricted path into people's hearts. That's what I felt the core of 'The Welcome Project' is about.
The project looks closely at the theme of welcome but from a 'perceive and receive' angle. This makes the technique of handling 'welcoming' special as it delves into how welcoming is practiced in real life, rather than limiting it to words and definitions.
Also, it is highly admirable how this project creates a friendly space where we can connect with other migrants and express ourselves freely.
One extra heartwarming thing is that after attending the workshops, I have noticed that we are starting to break the fear of engaging with others', and are simply more confident to speak our minds.