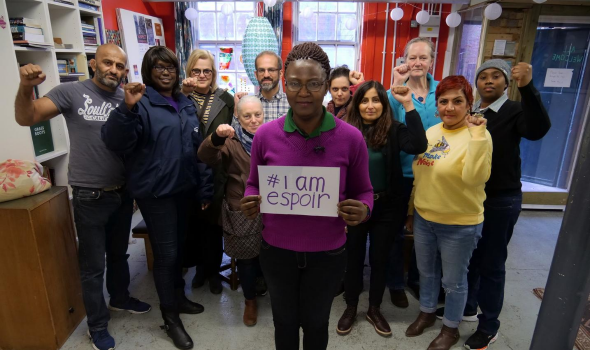 We've always campaigned alongside individual members who are facing an injustice, whether that's an unfair rejection by the Home Office, an undeserved eviction, or instances of hate crime or racism. Through this work, many of our members have got the justice they deserve.
More recently, we've developed bigger campaigns with the goal of policy reform. We take on campaigns where we see the greatest injustice and where the issue aligns with our strategic priorities.
These campaigns start from those who are affected and they remain at the centre throughout – it's their voices you will hear. Whether it's media coverage, meetings with MPs, demonstrations, lobbying, or speaking up at political and public events, we work alongside those affected and with other partners to achieve our joint goals.
We're currently campaigning alongside hundreds of international students who were wrongly accused of cheating on an English test by the Home Office in 2014 and had their visas revoked. They are just a small number of the 56,000 who were affected
In 2019, our work together on the My Future Back campaign resulted in damning reports by the National Audit Office, the Public Accounts Committee, and the All-Party Parliamentary Group on TOEIC (of which Migrant Voice is the Secretariat). The issue was plastered across the media, with more than 100 affected students speaking out and telling their stories.
As a result, many students are now winning their cases and getting leave to remain in the UK. But the work is not finished. Former Home Secretary Sajid Javid admitted that the Government has a "duty" to do more to help those students who were innocent. We and the students will not stop campaigning until the Government has fulfilled that duty - until there is a political solution that allows them to clear their names and get their futures back.
Since early 2019, after hearing from many of our members about the devastating impacts of extortionate visa fees and related costs (e.g. the NHS surcharge, appointment fees, English tests), Migrant Voice has been working to develop a campaign to significantly reduce these costs, which are leaving ordinary people impoverished and pricing people out of their rights.
To give one example, a family of four has to pay nearly £50,000 over the 10 years from arriving in the UK to getting citizenship. And that's if the Home Office doesn't mistakenly refuse an application – which is difficult and costly to appeal against.
We've been gathering stories and information about the impact of these extortionate, discriminatory fees from members across the UK. We've also been researching the costs in other Western countries and found that the fees in the UK are often ten times more expensive.
In March 2021, we officially launched our visa fees campaign in London. We will be working closely with our members as well as other groups and stakeholders to develop specific calls for change in the UK Visa system to make it a fairer and affordable system. We plan to work with journalists and policymakers to raise awareness of the extortionate charges that surround the UK visa system and achieve the changes we so desperately need. Our campaign is national, and our London is funding by the Trust for London.
If you are affected by high visa fees and would like to share your experience or would like to join the campaign, email us at [email protected].
EU Settlement Scheme
Since the 2016 EU Referendum, we've been working alongside our members and other organisations to fight for the rights of EU nationals in the UK after Brexit. We've raised their voices in the media and, through our position on the EU Settlement Scheme Home Office working group, taken their experiences directly to the decision-makers.
In 2019, hundreds of EU nationals responded to our survey on the EU Settlement Scheme. The resulting report, which exposed a number of very concerning problems with the scheme, was sent to every MP in the new Parliament and resulted in several meetings with MPs and Parliamentary questions.
Undocumented migrants
We have always worked with undocumented migrants to get their stories into the media and raise awareness about the reality of their lives. We run training and activities for this group of migrants to ensure they are heard and part of the conversation about their future in the UK.
We are an active partner in the Status Now 4 All campaign, calling for regularisation for all undocumented migrants currently in the UK and Ireland.