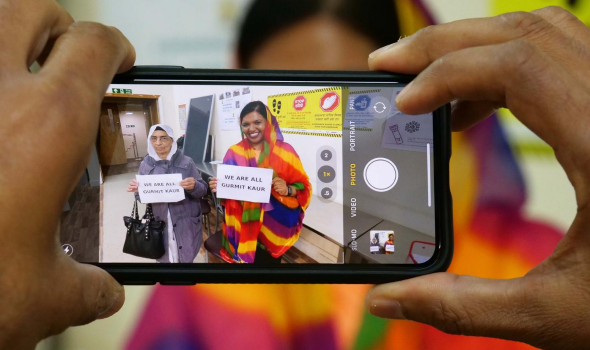 We encourage everyone who comes to a Migrant Voice training session or event – or simply reaches out to us for support – to become a member of our national network. This Migrant Voices for Change network forms the foundation for all our work. It's open to anyone who is concerned about the way migrants are portrayed in the media and public debate and passionate about bringing positive change.
Through social media, mailing lists, WhatsApp groups and whatever tools we have, we keep this network informed and active, and mobilise our members to join our training sessions and take action whenever there is an opportunity to speak out. This might mean signing a petition, taking a photo and posting it on social media, or speaking out as part of a campaign.
Network meetings
One of the key ways we mobilise our existing members is through regular network meetings in each region (London, West Midlands, Glasgow). At these meetings, we bring migrants together with policymakers, selected journalists and supportive members of the host community. It's a safe space for our members to talk about problems in their lives, to develop campaign ideas and strategies together, and to speak out, perhaps for the first time.
Other activities and events
We run workshops, talks and film screenings in each region, alongside our regular training sessions and projects. We also organise national or regional seminars and conferences, where our members come together with policymakers, journalists and experts from across the media and migration sectors to tackle the issues of the day and make concrete plans for future campaigns and activities.
From autumn 2020 to spring 2021, we are working with the organisations RAPAR and Kanlungan to build solidarity and resilience among migrant communities most impacted by Covid-19. Through surveys, interviews, training and self-help groups, we will create opportunities for migrants with limited immigration status to speak out through videos and directly with their MPs, and to develop supportive communities.
Outreach
We are always seeking to grow the UK-wide community of Migrant Voice and to reach more migrants with our training and campaigning opportunities. To this end, we conduct active outreach to migrant organisations and community groups in our three regions, building partnerships and sharing our expertise.