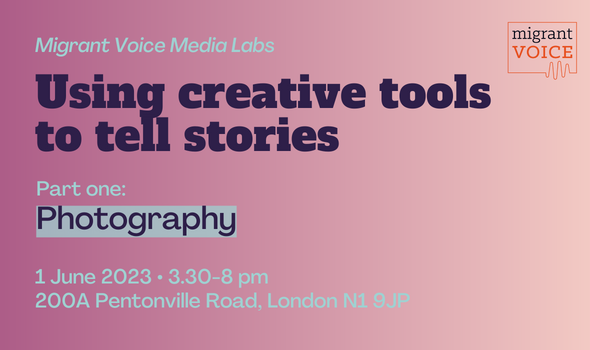 At the next series of Media Labs, we will explore creative uses of photography, drama and writing. We will explore the power of the arts to express our messages and produce a series of images and writing to showcase on our platforms.
---
The first Media Lab is on Thursday 1 June, 3.30-8pm, at Migrant Voice, 200A Pentonville Road, London N1 9JP.
It will focus on photography and it will be made up of three workshops. Each traning session will last approximately 1 hour 15 minutes, and you can join as many as you like. Pop by for just one or stay for the afternoon - it's your choice.
---
Session 1 • Messages of welcome through creative photography, by Anne Stoltenberg • 3.30 - 4.45 pm
This session will kickstart Migrant Voice's mini-project to use creative tools to create messages of welcome, an alternative to the hostile rhetoric on migration. We will explore how photography can be used to interpret ideas and concepts, feelings and experiences.
Everyone is welcome. You can use a mobile phone camera or any other camera. This session is not going to cover technical aspects of photography.
---
Session 2 • Telling a story through photography, by Cathy Teesdale, Humans of London • 5 - 6.15 pm
Cathy Teesdale, founder of Humans of London, will run a session explaining how to create and share human photo-stories which expand empathy and understanding using examples from the work of Humans of London.
---
Session 3 • Photography Basics & Photo Review, by Sam Ivin • 6.30 - 8 pm
Photographic artist Sam Ivin will give an introduction to his practice, where he explores themes such as human migration, play and portraiture. He will then facilitate a quick photo exercise. After this mini-workshop Sam will give feedback on any images you have sent it.
Did you ever take a photo that didn't quite work, and you want to know how to take the perfect shot next time? Or maybe you're having trouble editing a particular photograph and want some advice? Sam will go through some of your images and troubleshoot any camera difficulties you might have.
If you would like to join this workshop, please send [email protected] a photo you would like Sam to look at by Monday 29 May.
---
For more information, please email [email protected].