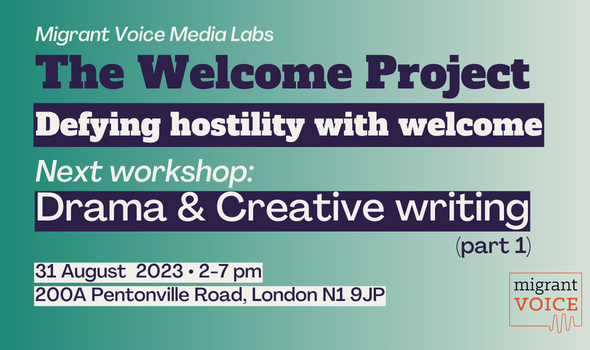 As part of our Welcome Project, we will be running a new Media Lab on Thursday 31 August with workshops on drama and creative writing.
You're welcome to join this Media Lab even if you haven't been part of the previous ones!
The Media Lab will include:
2.30 - 4.30 pm | Drama workshop with Seb Aguirre, co-artistic director of ice&fire Theatre and director of Actors For Human Rights.
5 - 7 pm | Creative writing workshop with award-winning playwright and novelist Rogelio Braga
Workshops will take place at Migrant Voice, 200A Pentonville Road, London N1 9JP.
This will be the first creative writing workshop of a series of three. The other two will take place on 21 September and 5 October.
If you've missed our 10 August session, join us on Zoom on Thursday 24 August at 3pm. For more information, email [email protected].
---
What is the Welcome Project?
The Welcome Project is a series of creative workshops and training sessions, organised by Migrant Voice and run by artists and professionals, through which we will work to explore the meaning of 'welcome' and create messages of welcome to migrants using photography, drama and creative writing.
We will use creative tools and explore how these can be used to express our ideas and experiences of welcome. We want to send an alternative welcoming message to migrants at a time of negative rhetoric and policies on migration.
You can find more information and a timeline of activities on this page.
Join our project if you would like to:
• Explore using photography, creative writing and drama to share our messages
• Discuss how to make society more welcoming to migrants
• Get to know new people
• Create photos, writing and other creative messages for an online exhibition
If you are interested, but haven't joined yet, please email [email protected] if you would like more information.