» Whats On
London Network Meeting: "Beyond the Bill"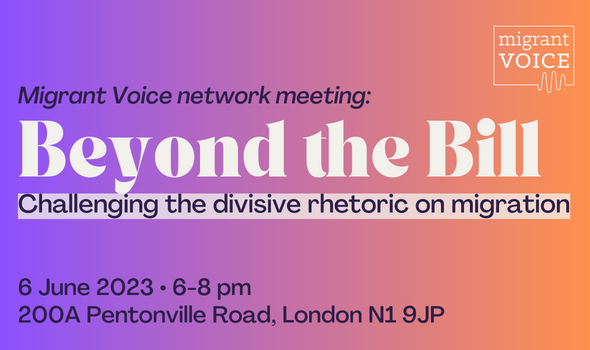 Join our next network meeting in London looking at the impact of the current hostile rhetoric towards migrants.
The meeting will take place in person on Tuesday 6 June, 6-8pm, at Migrant Voice, 200A Pentonville Road, London N1 9JP.
The political rhetoric surrounding the Refugee Ban Bill (Illegal Migration Bill) is reaching new heights of hostility in tone as well as policy. This meeting will look at the implications of this increasingly toxic, misleading rhetoric on migrants and how it is impacting our communities. We know the mainstreaming of such language is emboldening the far-right and inflaming tensions. We need to speak out for a different, more compassionate society that treats all human beings with dignity.
Migrant Voice was set up to change who speaks and how we speak about migration; we know well the damage of divisive rhetoric, especially when migrants' voices are absent.
The human impact is devastating, as shown in our recent report on the appalling conditions in hotel accommodation for asylum seekers, "No rest, no security".
At the meeting we will discuss how we are impacted by this escalating rhetoric and discuss our views and how best we can challenge it together with our communities and beyond.
Speakers will include:
Jonathan Portes, professor of Economics and Public Policy at Kings College London and a senior fellow at UK in a Changing Europe
Rosie Carter, director of policy and engagement, Hope not Hate
Lara Parizotto, co-director, Migrant Democracy Project and councillor for Hounslow
Flora Mutuku, migrant, immigration and human rights lawyer and Migrant Voice member
Rogelio Braga, co-chairperson, Status Now Network
plus other migrant speakers, both individuals and from different organisations.
If you'd like to get in touch about this meeting, please email [email protected].