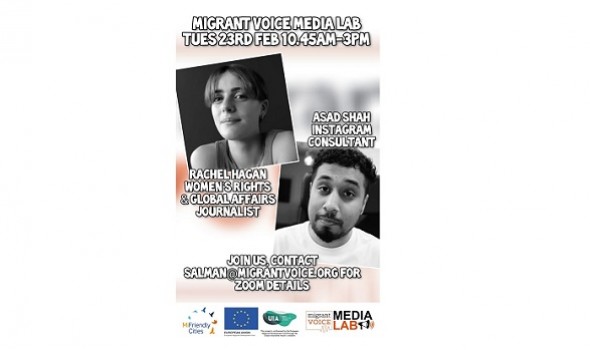 We are delighted to invite you to our next online Media Lab training workshop for migrants in the West Midlands, Tuesday 23 February from 10.45am - 3.00pm
This Media Lab follows on from our recent network meeting on 9 February, where some of the key issues raised were the impact of extortionate visa fees and No Recourse to Public Funds. At this Media Lab we will learn how to refine our messages to share our stories around these and other issues we want to raise awareness of.
Global women's rights and current affairs journalist Rachel Hagan will share her experience of what makes a strong message and story. And Instagram Consultant Asad Shah will help us with how best to amplify these on social media platforms.
Rachel Hagan is global women's rights and current affairs journalist who reports on news, social policy and global stories — often from a women's angle. Her work has been widely published across The Financial Times, The Independent, VICE, ELLE, Dazed, Huck, Novara, Tribune and others. She has interviewed victims of sexual trafficking, Syrian women living under siege, UN peacekeepers, British asylum seekers and sex workers among others. She is particularly interested in and passionate on migrants' rights and women's rights.
Asad Shah is an aspiring entrepreneur that after multiple start-ups used his Marketing knowledge to catapult his personal brand. He reaches 250,000 people every month with Instagram and teaches people how they can do it too via his course and consultations on his website. Asad has also established Huddle Duck, a company that helps businesses build profitable communities on Instagram.
Agenda for the Media Lab
10.45 – 11.00 - Zoom connections, welcome and introductions
11.00 – 12.30 - Session 1 - Rachel Hagan will share with us how to refine our messages to create a strong story.'
12.30 – 1.15 - Lunch break
1.15 – 2.45 - Session 2 – Asad Shah will help us understand how better to use social media platforms amplify our stories
2.45-3.00 - Q&A, finishing off projects, evaluation
To join us please email [email protected] to confirm your attendance and get the Zoom link for the day.