» Whats On
National network meeting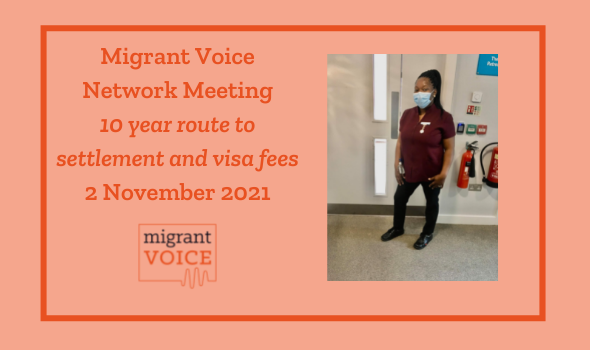 Migrant Voice would like to invite you to a national network meeting looking at the issue of the 10 year route to settlement. The meeting will be held on Zoom from 4-6pm on Tuesday 2 November.
There are more than 170,000 migrants in the UK whose pathway to settlement is 10 years or more. During this time they have to renew their visas every 2.5 years, paying thousands of pounds. Over ten years a family of 4 pay over £50,000. Most other routes to settlement in the UK are 5 years. This extended period of time spent living in limbo forces migrants into years of insecurity, with many pushed into poverty.
At this meeting we will discuss the effects of this policy, why we need it to change, and how we can make that change happen and call for a 5 year route for all!
Speakers include MV members Tameka Beckford, Gabriela Savariego and Camiquea Bryce-Jordan, who will talk about their experiences of the 10 year route to settlement; Jim Wilson, Immigration & Human Rights Solicitor, J M Wilson Solicitors; and others TBC.
The network meeting will be online on Zoom. Please email [email protected] or [email protected] to confirm attendance and we will send you a Zoom link.
Please do get in contact if you have any questions about the network meeting or the campaign.