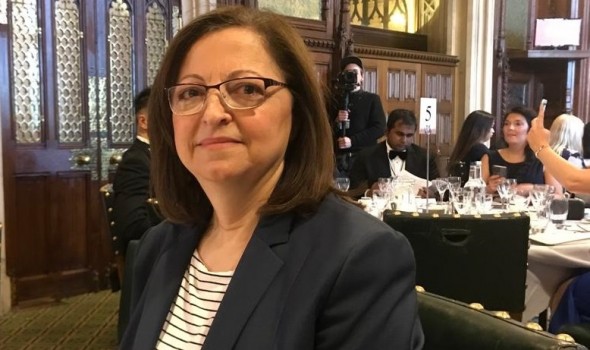 THURSDAY 23 DECEMBER, 2021
End of year message from Migrant Voice director Nazek Ramadan
What a year! Globally, there were political upheavals from Afghanistan to Myanmar, from Yemen to Ethiopia, and "silent" crises in regions such as the Sahel — all forcing millions of people to flee for their lives. Nationally, there were drownings in the Channel, massive changes in Britain's migrant population as the impacts of Brexit began to be fully felt, and continuing ramifications of the inhumane, unjust and often unlawful "hostile environment", not least in the new Nationality and Borders Bill.
And then there was Covid-19.
In a year when Migrant Voice was repeatedly required to give attention to a series of migration controversies, we managed to maintain and even expand our activities, with staff and members working from home, often in difficult, isolated conditions.
The Covid spirit was captured in our Cup'a'Tea online get-togethers. These meetings transmuted the world of NGO jargon — projects, deliverables, objectives, evaluation — into flesh and blood: people connecting, supporting each other, checking that everyone was ok, showing that no-one was alone. Creating community.
Resilience was the name of the game in the Building Resilience partnership, which provided more than 500 migrants with limited or insecure immigration status with a safe space in which to meet and connect, to share their fears and concerns and know they were not alone.
Community and caring featured in two activities that were completed in 2021: Volunteering for Change in Scotland, which built confidence and skills and provided work experience; and MiFriendly Cities, in which we worked with three local authorities in the West Midlands, a university, non-government organisations and private companies, in order to create a model in the UK and in Europe in which migrants can prosper, alongside the whole community.
Even the campaigns we led for individuals fighting for their rights in Birmingham and other places addressed wider systemic issues and mobilised hundreds of thousands of people, turning individual stories into communities' collective demands for change.
The benefits of close cooperation with fellow organisations was further demonstrated by our work formulating and delivering policy recommendations to Government and in bringing together European organisations to agree a letter to European governments and international institutions on policies towards Afghans fleeing after the Taliban takeover.
This is not intended to be a catalogue of all Migrant Voice's work during an extraordinary year: the aim is simply to give a flavour. But specific achievements included helping to pressure the Government to remove the health surcharge imposed on migrant health workers; publication of an impressive glossy magazine, Beyond; and the acceleration of our campaign against extortionate visa fees (on which we hope to publish a report next year. And a ray of light in a dark and difficult year came with successes in the My Future Back campaign: the relief and triumph of starting to see many students wrongly accused of cheating in English-language exams for UK universities finally winning cases, proving their innocence and rebuilding their lives.
In the midst of responding to unexpected events, running campaigns, formulating policy, lobbying for change, organising mutual support, raising funds, administering our three regional offices and a score of other activities, we continued to work with the print and electronic media, with reporters and, increasingly and crucially, with editors. Our Media Labs and other training projects enabled members to pitch stories and be interviewed about their experiences and views. Our aim is not just to read, see and hear more migrant voices in the media, but to influence newspaper, magazine, TV and radio attitudes to migrants and migration.
Organisationally, important developments included becoming a registered charity in Scotland, which opens the door to a plethora of new activities, and embarking on a review of two key NGO requirements. These are a theory of change, which sets out how what we do will bring about the social change we want to see, and a review of our strategies.
We are not complacent. We wish we could have done more with our limited resources. We know that next year even more needs to be done.