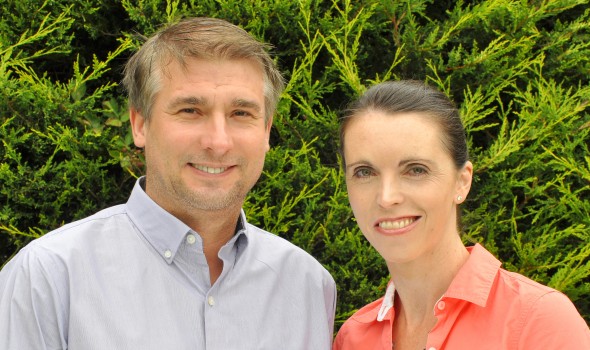 MONDAY 18 OCTOBER, 2021
My name is Florin Mandache, I was born in Iasi, Romania, and have lived in Scotland since 2000. Since my student days, I have loved to travel and, in the summer of 2000, was working in Malaga, Spain unlocking mobile phones.
While living there, I would go to a local nightclub with my flatmates. One night I met Carolyn, who would later become my wife. The two of us just clicked, and decided that when Carolyn went back Scotland that we should try to continue the relationship.
I was fairly used to the complicated rules to travel as a Romanian at that time, and so I knew that a visa would be required when Carolyn suggested I join her in the UK. Still, I think the whole system was a bit of a shock to her.
Carolyn joined me at the British Embassy in Madrid: we were both bitterly disappointed when my visa application was refused. This was despite a welcoming and supportive offer of accommodation from Carolyn's parents. Disheartened, I flew back home to Romania and tried again, this time at the British Embassy in Bucharest. Thankfully, my visa was granted and I was met by Carolyn at Glasgow Airport.
After a few weeks together at Carolyn's family home, we decided we would both have better employment prospects in London, where I already had some connections. I was self conscious about my accent, convinced that people would struggle to understand me. Ironically, Carolyn's Glaswegian accent proved more challenging to Londoners than my Eastern European one! We stayed there for six months, but with the long commutes and the extortionate rent, we soon tired of the UK's capital city. We knew we wanted to settle in Scotland.
While we were in London, I had proposed to Carolyn - and she said yes. We moved back to Glasgow, where we started preparing for our wedding. Unfortunately, when the big day arrived, my sister was not granted a visa to attend, even though she had proved that she met the requirements, including having a return flight home, a steady job to return to, and being a homeowner. It was frustrating, and it felt wrong that the government denied a close family the right to be at such an important event. My sister has since visited us in Scotland without problems, so hopefully that signals an improvement.
Another disappointment was that I had got partway through an IT degree in Romania, but the two years I had completed of my studies were not recognised in the UK. I had a choice: to start all over again or to try and find work.
I opened my own company for unlocking phones, and Carolyn worked with me to do the accounts and invoices. The business was a success but, eventually, there was no longer a demand for phone unlocking - so I gained employment as a software engineer. However, I enjoyed working for myself and was always trying to think of a new business venture.
Fast forward to 2015: by this point, Carolyn and I had two sons and were guardians to our two nieces from Romania. Family life with four children could be challenging, and dining out was not always the experience we hoped for. That's where the idea for our app, time2dine, came from. On the app, people can order and pay for food in advance, cutting wait time. The business still operates today, with interest from abroad, so we hope to expand and grow our team. I am proud that we have managed to support local restaurants throughout the pandemic. We helped them offer takeaways when forced to close, including developing QR code ordering and payment directly from customers' tables.
Since moving to Scotland there have only been one or two racist incidents towards me, but Carolyn and I feel very strongly about the way Romanians are portrayed in the media. It's hurtful for the truth to be twisted as it so often is, to make out that immigrants, not just Romanians, are a burden to the UK. As parents we want our kids to grow up proud of both their Scottish and Romanian roots. For this reason, Carolyn decided to write a book. Behind the Curtain is a fictional account of my life up until moving to Scotland and is available on Amazon, as well as Carolyn's website.
Overall I am very happy living in Scotland and raising my family here. I do moan about the weather, so we enjoy sunny holidays when we can. Initially, I did miss my friends and family, and felt homesick at times, but I have been made to feel very welcome and am proud to run a successful immigrant-led business which significantly contributes to the UK.
Behind the Curtain by Carolyn Mandache is available for purchase here
Visit the time2dine website by clicking here
Visit Carolyn's website by clicking here