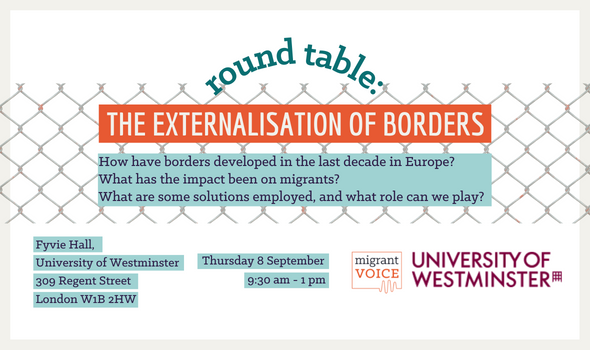 The Externalisation of Borders: Perspectives from UK, Europe and North Africa
Organised by Migrant Voice and the University of Westminster
Thursday 8 September 2022, 9:30am - 1pm
the University of Westminster, Fyvie Hall, 309 Regent Street, London W1B 2HW
---
Migrant Voice will be holding a round table with the University of Westminster.
The round table focuses on 'externalisation of borders'. We will look at the development of borders over the last decade in Europe; how the externalisation of borders has evolved and what has been the impact on migrants. We will also look at how we create change: What are some of the solutions and tactics employed in different countries to uphold human rights and what role can migrants, NGOs, academics, and other ordinary citizens play in this?
Speakers include:
Lul Seyoum, Co-Chair, United Against Inhumanity (UAI) & Director, International Centre for Eritrean Refugees and Asylum Seekers (ICERAS)
Steve Valdez-Symonds, Refugee and Migrant Rights Programme Director, Amnesty International UK
Eiri Ohtani, Director, Right to Remain
Rim Triki, University of Tunis El Manar
Alice Argento, CLEDU
Donia Smaali Bouhlila, University of Tunis El Manar
Nieves Ortega Perez, University of Granada
Nathan Akehurst, Global Strategic Communications Network
Speakers from Regularise, the Migration Observatory, Migrants Organise
---
As a global trend, borders are no longer at the edge of a state, but externalised to other countries as well as embedded inside society among ordinary citizens and through greater digitisation of border controls. Borders are now fluid, but they are around and among us.
In the UK, immigration controls have been increasingly outsourced to ordinary citizens - turning them into unwilling border agents. Landlords, doctors, teachers, employers and others are required to perform checks on their patients, students, service users, and report their status to the Home Office.
At the same time, the UK's new Rwanda plan signals a shift further from externalisation of border controls to outsourcing responsibilities altogether.
Meanwhile across Europe, the externalisation of borders and the increasing criminalisation of migration and those rescuing or showing solidarity with migrants demeans the notion of European values and institutions we claim to uphold.
This round table will focus on issues around borders and engage UK and international perspectives in learning and discussion.
---
Find more information on this leaflet, and email [email protected] to let us know if you wish to attend.