» Whats On
Putting Ourselves in the Picture: Welcome event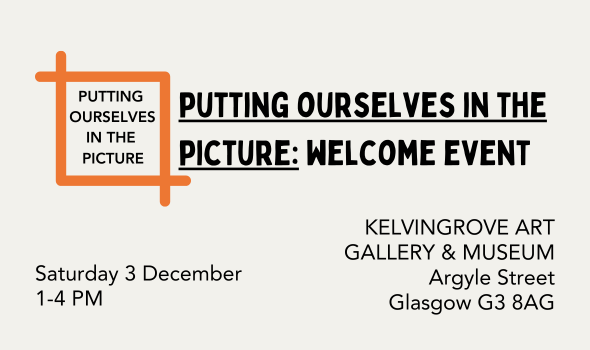 Join us at the first 'Putting Ourselves in the Picture' event at Kelvingrove Art Gallery on Saturday 3 December, 1-4pm!
There will be opportunities to interact with the team involved in the project and other participants, share ideas for publications and exhibitions, sign up for activities and upcoming training, and go on a mini tour around the museum.
You can arrive at any time and 1.5 hours will be enough to get the full experience. Sign up via this form and share the event with your community, friends and family!
Migrant Voice and Glasgow Museums teams, who are organising this event, are excited to meet you! In addition, there are activities for children happening in the museum that day and we will signpost families to them. Everybody is welcome!
Our project explores and celebrates the heritage and contributions of those who have made Scotland their home and creates opportunities for people to interact and get to know one another! Collaborative exhibitions, events and publications will bring this to life for the wider Glasgow Community.
EVENT INFO
When: Saturday 3 December 2022, 1-4pm
Where: Kelvingrove Art Gallery and Museum, Argyle Street, Glasgow G3 8AG
If you have any questions, please email [email protected].
We're looking forward to seeing you there!