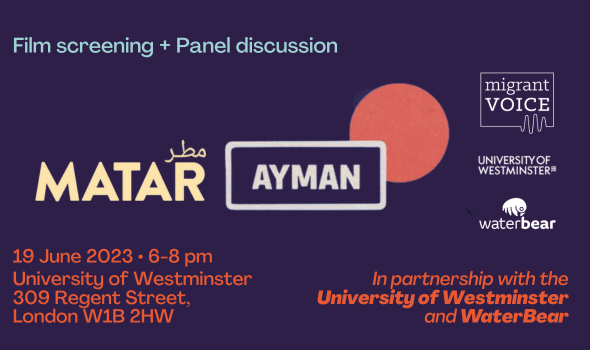 To mark Refugee Week, Migrant Voice and the University of Westminster are hosting an evening of award-winning film and discussion on 19 June at the University's Regent Street campus. We will screen two powerful short films, MATAR and AYMAN, followed by a panel discussion and Q&A.
Speakers include Hassan Akkad, the Bafta award-winning director of MATAR, and Ayman Alhussein, who directed the award-winning AYMAN and co-wrote MATAR based on his own lived experience as a young refugee who fled from Syria to the UK in 2015. The discussion will be chaired by Migrant Voice director, Nazek Ramadan, and introduced by Dr Federica Mazzara, associate professor in Cultural Studies at the University of Westminster.
All are welcome to join us for this event from 6-8pm on 19 June at Fyvie Hall, University of Westminster, 309 Regent Street, London W1B 2HW.
While this event is free, registration is necessary. Make sure to reserve your spot by registering here.
This event is hosted by Migrant Voice in collaboration with the University of Westminster and WaterBear. Migrant Voice is a migrant-led charity that supports & empowers migrants, including asylum seekers and refugees, to speak out and be heard. We challenge prejudice and build support for our rights by amplifying migrant voices in the media and in public life.
---
About the Films
A powerful and poignant story of resilience and perseverance, MATAR follows the story of an asylum seeker in England who, when confronted with the hostile immigration system and discrimination in the UK, is forced to live on the fringes of society and rely on his bike to survive. The docu-fiction is produced by Deadbeat Studios in association with Choose Love.
AYMAN is a short documentary filmed during the emergence of the current European refugee crisis in 2015, giving a first-hand glimpse into the conditions refugees experience. The film is told from the perspective of Ayman Alhussein, a young Syrian refugee, and his journey to seek safety after his world was turned upside down along with tens of thousands of others in the world's largest refugee crisis since WWII. This is Ayman's story of his experiences in the Calais camp, and his genius plan to get to England, no matter the costs.
In 2020 AYMAN film won the Award of Excellence at the Docs Without Borders Film Festival, won Best of Festival at the Depth of Field International Film Festival and was shortlisted for Best Documentary Short at the NYC Short Documentary Festival.