» Whats On
Glasgow network meeting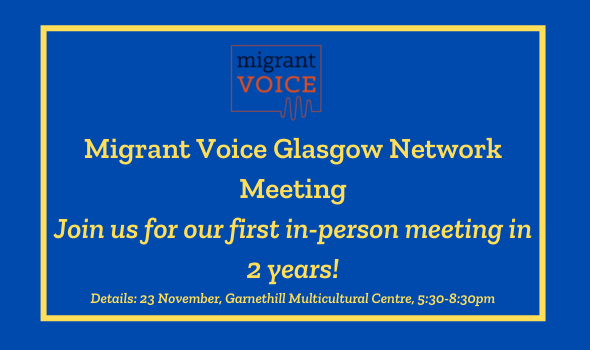 Join us on Tuesday 23 November for our first face-to-face Glasgow network meeting and social in two years!
This is an opportunity to hear updates from migrant communities and to share your views and experiences of the challenges facing migrants in Scotland at this time. We will also discuss how best to use the media to amplify our voices and campaign messages to achieve the change we want.
The meeting will take place at Garnethill Multicultural Centre, 21 Rose St, Garnethill St, Glasgow, G3 6RE, from 5.30-8.30pm.
Speakers from many communities will address the meeting, and we will look at the issues that connect us and discuss potential collaborations and actions to take forward.
The speakers will include:
Marzanna Antoniak, a Community Connector at Thriving Places Govanhill, who will be talking about issues affecting eastern European communities
Ako Zada, a campaigner for refugees' rights, who will be speaking about issues affecting refugees and asylum seekers
Kimi Jolly, founder of East and Southeast Asian Scotland, who will be talking about East and Southeast Asians, including the Vietnamese community
Mara Sese, a healthcare professional, who will be talking about migrant health workers
Mhairi Snowden, Director of Human Rights Consortium Scotland, who will be talking about rights for migrants in Scotland
Anthony Adam from the City of Glasgow College, who will speak about asylum seekers and ESOL classes
We are delighted that Simon Israel, former senior home affairs correspondent for Channel 4 News, will be joining us to support us with how to make the most of the media.
The event will also be an opportunity to enjoy some social time with food, networking and music from around the world by Ando Glaso.
If you are able to join us, please confirm your attendance by 18.11.2021 to [email protected] for catering purposes and to ensure compliance with Covid-safety.