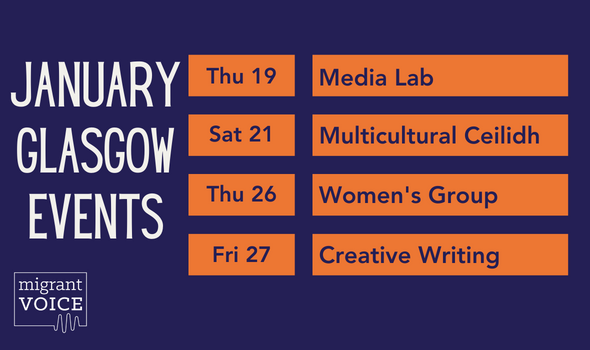 We've got some exciting happenings arranged in Glasgow to bring an energising start to 2023 at Migrant Voice! There is something for all tastes, from dancing to writing, and an opportunity to get involved in event management for those of you who want to volunteer with us.
Here's what's coming up:
Thursday 19: Media Lab
Saturday 21: Multicultural Ceilidh
Thursday 26: Women's group
Friday 27: Creative writing workshop

We invite you to join our collaborative zines as part of the Putting Ourselves in the Picture project. Go to this form for more details and to register your willingness to contribute.
CURRENT TOPIC: Greetings (insights into greetings amongst the various cultures & languages in Glasgow, similarities & differences)
DEADLINE FOR SUBMISSIONS: 16th of January 2023 (might be stretched a bit for a special contribution)
FORM: words / photography / illustration / other
LANGUAGE: any (we will provide translation)
OPEN TO: everyone with experience of migration: those who moved to Glasgow from elsewhere / those from Glasgow who have lived somewhere else / those with ancestry in other parts of the world.
We are going to be publishing those zines almost every month throughout 2023, and you're welcome to contribute at any point. There will be a variety of topics selected by our project members, so register via the form to receive updates or simply get in touch. Each zine features a poster designed by a different local artist and in about a year from now there will form an exhibition showcasing Glasgow's diversity. If you are an artist or know someone who might want to join our initiative, please share this invitation with them.

Our Media Labs are open to everyone with experience of migration. Sessions are suitable for all levels of English speakers and language support will be provided.
Sign up here and we will send you the exact address.
The first session is on Thursday 19 January 2023, 6 - 8.30 pm, at the University of Glasgow.
You will take part in sessions around:
Migrants, the media, and representation
Interviewing skills
Analysing media content
The Media Labs are organised by Migrant Voice in partnership with the University of Glasgow.

Join our team of staff and volunteers to help us prepare for the ceilidh. We're meeting on Friday 20 January at 5.30 - 7 pm, 21 Rose Street. We will be preparing decorations, planning shopping, activities, assigning roles at the event, etc. Several of our members have indicated they'd like to volunteer with Migrant Voice helping with event management and as the saying goes: the more the merrier! Contact Marzanna to find out more.

Migrant Voice and Garnethill Multicultural Centre are delighted to invite you to our joint Burns Night celebratory meal and a ceilidh with dances from around the world.
Saturday 21 January, 7.30 pm - 10.30 pm at Garnethill Multicultural Centre.
Apart from the Scottish and multicultural tunes to dance to, you can also expect some traditional food, henna painting, and other activities. Feel free to dress up for the occasion. Please note, the event is held upstairs where there is currently no wheelchair access. Places are limited so please sign up now to avoid disappointment.

The next meeting of our Women's Group is on Thursday 26t January starting at 6.15 until around 8.30 pm, Garnethill Multicultural Centre. At our sessions, we share thoughts about migrant heritage and contributions, come up with ideas for publications, exhibitions, and plan and organise events. Speakers of all English levels are welcome. The women will also have a chance to take part in a block of women only creative writing sessions in March. To join our group, sign up here.

Migrant Voice and Povestry are hosting a series of creative writing sessions where we will explore our heritage, journeys and identities through storytelling in all its forms.
The sessions are open to anyone with the experience of migration: those who moved to Glasgow from elsewhere, those from Glasgow who have lived somewhere else, and those with ancestry in other parts of the world.
The four sessions will take place at Garnethill Multicultural Centre on Fridays, 27/01, 3/02, 10/02, 17/02, 5.15 - 7 pm. Places are limited so please book now.
Thanks to the funds from Glasgow Winter Wellbeing Fund, the stories written by the group will be collected and published in a literary and artistic anthology.