» Press
MV Ambassador speaks out to Morning Star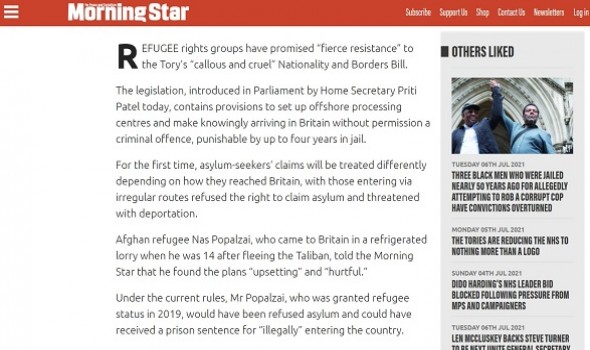 On 6 July, Migrant Voice Ambassador Nas Popalzai spoke out against the government's plans to overhaul the asylum system in an interview with the Morning Star.
During his interview, Nas spoke about how he fled Afghanistan as a 14-year-old child before enduring a nine year battle to stay in the UK, which he eventually won with the support of Migrant Voice.
"I fled for my life. I was going to be killed there, so I ran away from my death," Nas told the Morning Star.
He criticised the government's recent introduction of the Nationality and Borders Bill to the House of Commons, which proposes to jail for up to four years any asylum seeker who has not entered the UK via an agreed route.
"Look at me. If I was in the same situation as other people trying to cross the Channel, I'd rather be put in prison here than killed in my own country," said Nas.
Read the full article in the Morning Star by clicking here.