» Press
MV Ambassador quoted in Daily Record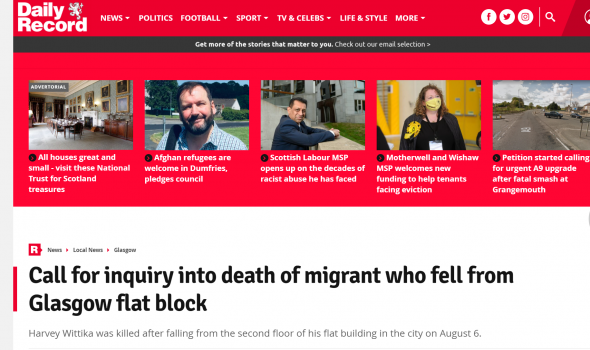 On 30 September, Migrant Voice Ambassador Cryton Chikoko was featured in an article by Scottish national newspaper the Daily Record. The article focused on the tragic death of a migrant called Harvey Wittika, who died after falling from the second floor of his flat building in Glasgow.
As part of Status Now 4 All, Migrant Voice is calling for an inquiry into this man's death, so that the full circumstances surrounding it can be investigated.
Speaking to the Daily Record, Chikoko said: "Here is a man whose home was the UK, but whose right to work to earn his living was denied to him. This is an intense and continuous stressful situation: stripped of your human rights, in limbo for years, where no right to work and the corresponding means to truly feel settled can push any person into desperate measures.
"Wittika's suffering was tragic and unnecessary, but not isolated. The Home Office has shattered many dreams and continues to treat many migrants in the UK as if they are the worst sort of 'criminals'."
Read the full article by clicking here