» Press
Huffington Post publishes in-depth story on wrongful Home Office allegations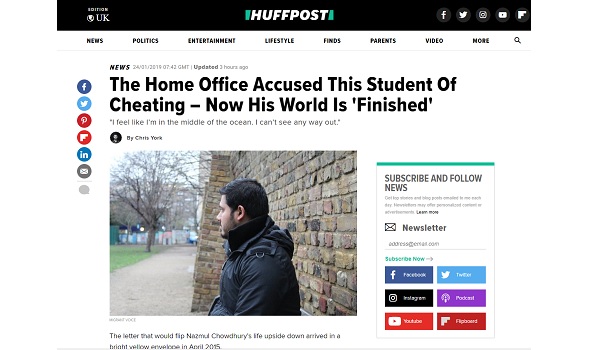 On 24 January, the same day we and the students held a demo and event at Parliament calling for justice, the Huffington Post published an in-depth story about the wrongful Home Office allegations against thousands of international students.
In the article, Chris York dissects the flawed evidence, the Home Office refusal to acknowledge wrongdoing and the "hostile environment" and drive to lower migration numbers that contributed to this debacle.
Migrant Voice Director, Nazek Ramadan, told HuffPost UK: "It's an outrage that thousands of students are still suffering, five years after the first wrongful allegations... They have been treated as criminals but given no real way to defend themselves from the allegations. If they can't clear their names, they will struggle to get a job anywhere or a visa for any country in the world. They must be given their futures back."
The article also quotes from a blog by Nazmul Chowdhury, one of the students affected.
"I'd heard about other people who had been accused of this in the news and I knew it was a trap – once you got the accusation, there was no way out, no way to fight it," Nazmul wrote. "But I never thought it would happen to me."
Read the full article here.