» Press
Birmingham Mail covers Bashir's campaign after Meet the Editors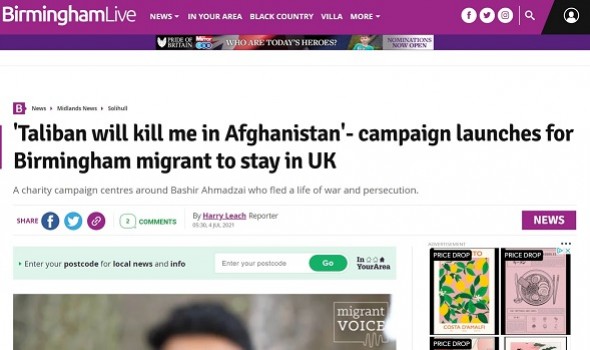 On 4 July, as a direct result of our recent Meet the Editors West Midlands event, the Birmingham Mail has reported on the story of Bashir Ahmadzi - an asylum seeker from Afghanistan who fled the Taliban and came to the UK as a child. He is currently fighting to stay in Britain, as his life will be put at risk if he is deported. Migrant Voice is supporting Bashir in his case, including with an online petition.
The story was facilitated by Nas Popalzai, a Migrant Ambassador who took part in the Meet the Editors session and who helped set up this interview with Bashir. Nas is also interviewed in the story about his own experience as a refugee from Afghanistan, and about his friendship with Bashir, who he is supporting in his fight to remain in the UK.
"I don't want to be sent back and made to join the Taliban; I don't want to kill anyone or be killed, I want peace and refuge," Bashir told the Birmingham Mail.
"That's why I came here, my life was in danger. It's not safe for me in Kabul where the Home Office wants to send me."
The story featured in both the print edition of the Birmingham Mail (see photo below) and on its website (click here to read the article). You can sign Bashir's petition by clicking here.