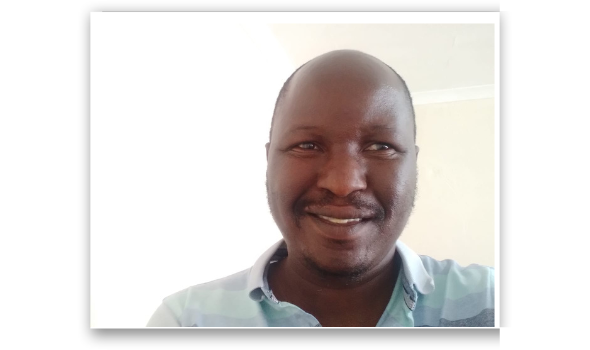 This article is part of our #10x10 series to mark ten years since the introduction of the 10-year route to settlement.
It places migrants in a decade-long limbo, while costing them over £10,000 per person.
In this series, migrants share their thoughts on the 10-year route and why things must change.
We're campagning for a cap of max five years on routes to settlement.
---
My name is Cryton. I am originally from Malawi.
I came to the UK in 2005 to join my wife who was here on a student visa.
Around that time, immigration rules allowed me to switch from a dependent visa to a study visa and I spent the next years studying.
Finally after my wife had achieved 10 years of lawful residence, we applied for settlement, which was rejected. We didn't see that coming.
We had already settled here and made significant lifestyle changes which meant we couldn't just leave the country. We decided to challenge the refusal decision. Naively, we didn't expect it to take a long time. It ended up being a 6-year battle to get our immigration status.
So it was in 2019 that the Home Office placed us on the 10-year route to settlement.
I should acknowledge that in this country there are many migrants in a worse immigration situation than mine. They have no route to settlement at all. I very much appreciate their pain because I share some of it.
However, what is often not talked about is that almost all people placed on the 10-year route to settlement by the Home Office have already been in this country for a long time, just like I have.
In my case, it is not 10 years to settlement. Rather it will be 24 years to settlement. With so many obstacles to overcome it may be until 2029 that I may be eligible for permanent settlement. In many ways, this route has some similarities with serving a prison sentence. It may even be harsher in some respects because there is no way to reduce the years you serve - it is a rigid 10-years visa sentence, and if you should be unable to renew one of your visas, the sentence will be subject to a reset. You will have to start the whole 10-years over again.
While you're on the 10-year route your career is limited. My experience has been that most employers don't like to employ people on temporary visas. The Home Office has placed enormous responsibility on employers to manage borders through employee checks and risk of large fines, and some employers are afraid to get it wrong. Some jobs are only offered to people with Indefinitely Leave to Remain.
It is on this visa you quickly realise that there are so many things you cannot do - from changing employers, finding a secure job to getting a mortgage.
On the 10-year route to settlement you quickly realise how short life is. All your productive years are spent oppressed by the immigration rules. When I realised that I cannot practise as a lawyer, I wanted to study again and qualify as an OISC immigration adviser but OISC exams require a longer visa than I had.
On Facebook I can follow how my law school classmates are progressing - from appearing in the lower courts to be granted permission to appear in higher courts, from being employees to being employers. And others may soon qualify for early retirement, when really, I still don't have a foot in anything.
Visa rules in this country are not a consequence of automation. They are designed by fellow human beings to make the lives of other human beings miserable and to unfairly profit from them.
Yes, we are all in the UK but immigration rules put some of us in a totally different world. We may all be in the same storm but we are in different boats.
I recently observed several people complaining about the 10-week delay in renewing their British passport that is endangering their planned holidays abroad. The Home Office said it is seriously looking into the matter and rightly so. In fact, it has been apologising profusely for such a long delay of 10 weeks.
Now look at my family, we have paid thousands of pounds for each visa renewal. It is now coming close to a year since we applied again for another 2.5 year visa and I have heard nothing from the Home Office. In our world of visas here in the UK, we don't get any apologies whatsoever from the Home Office. They wouldn't even think about that. We are in a different boat. We are not classified in the same way as other people.
The Home Office even took our passports from us for almost a year while the application is being processed. It means no travel for my wife to see her ailing parents.
I do, however, want to express my gratitude to charities who try their best to speak up for us. It is a huge boost to know that there are people who understand our pain. People who appreciate our challenges. There are people who genuinely think migrants are people just like them.
Some others may earn their living by terrorising migrants but ultimately at the end of the game - the pawn and king all go in the same box.
In our excursion here on earth, life ought to be lived by kindness and love.