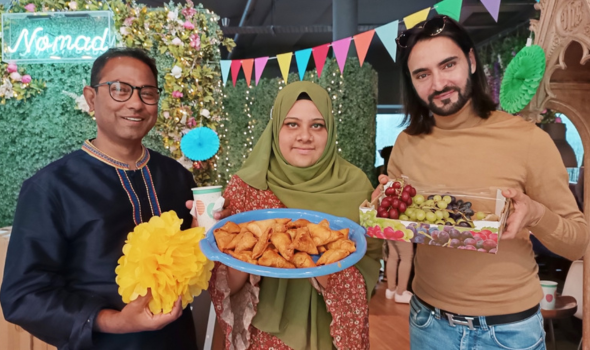 On Tuesday 18 July, individuals from a variety of migrant backgrounds came together and attended our Coffee Morning event, celebrating the launch of South Asian Heritage Month (SAHM).
The event in Birmingham provided an opportunity to connect migrants together, to share our own individual stories and experiences, as well as to learn more about the significance of the awareness month.
We celebrated with samosas, colourful decorations which reflected the vibrant culture of South Asian countries, traditional music, and an amazing henna artist!
On the importance of celebrating South Asian Heritage Month, Morshed Akthtar expressed: "It is important to me because being a South Asian community person, I believe they have been contributing to the community, country and globally as well."
He added, "The time we are living in is like integration, coming together, that is why it is important to me to become as a whole, part of the whole community."
Farzana Quddus, our henna artist at the event, said: "It's fantastic to celebrate different cultures especially in Britain, we have diversity so it's really meaningful to myself coming from a South Asian background to see different faces in this room."
She also explained what it was like to be South Asian. "We have all our different qualities so it's nice to find out about everyone's culture and heritage. It's nice to find out about different beliefs as well, as It's making people come together as a community."
Following the event, we also received numerous positive feedback from our attendees and we look forward to carrying out other events in the near future and collaborating with other organisations.
We would like to thank those who attended and came to celebrate South Asian Heritage Month with us!
---
South Asian Heritage Month takes place between 18 July - 17 August, 2023
Photo credits: Migrant Voice, 2023