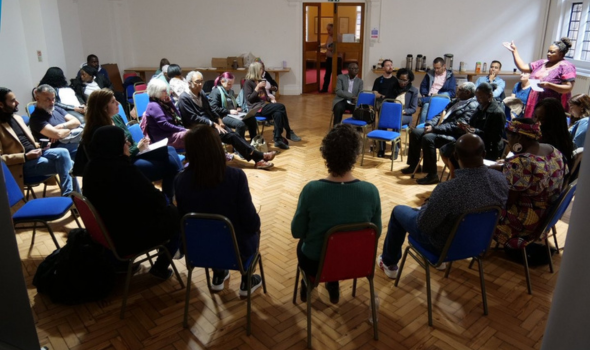 Migrant Voice came together for a Birmingham Network meeting on 26 September to discuss the government's proposed punishing increases to what are already extortionate visa and settlement charges. Over 40 of us came together in a packed room at the Birmingham and Midlands Institute: migrants, members of the public and representatives of community organisations, and trade unions as well as legal experts.
Migrant Voice Director, Nazek Ramadan, welcomed all and pointed out that the amount of people gathered here today just shows how we are all not happy with the issue of extortionate visa fees.
Anne Stoltenberg, Head of Development at Migrant Voice explained the background for the meeting and history of our campaign against extortionate visa costs and why we need to come together to fight for change.
The devastating impact of the costly and lengthy settlement process was highlighted by all speakers from legal backgrounds and communities groups, and in particular by those with personal experience who shared how it impacted every aspect of their lives.
Danai Papachristopoulou, Immigration Department Manager at the Refugee and Migrant Centre, shared how migrants are struggling with the settlement application process now and how the situation would get worse when the fees go up. She said that more would have to ask for fee waivers, and this process is already both complicated and invasive.
"You cannot spend any money and you have to provide evidence of all finances for the duration of the past six months. People can wait up to 15 months before they get a decision which adds to the time they wait for the visa. In this period they can't travel." The only way for people to be able to have a life is for the fees to be lowered to admin cost, she concluded.
David Forbes, a legal advisor at Lifeline Options and steering group member of our visa fees campaign, reflected on how the complicated system of visa costs and the settlement process can resemble a form of "debt bondage" because it traps people into an expensive, decade-long process, often forcing them to go into debt.
David argued that the process, which puts people at high vulnerability, is also deceptive, as people don't always realise the total costs and time that it will take for them to achieve permanent residence. We should be talking about the issue from this perspective, he concluded, and highlight the exploitative and deceptive nature of the system.
Jacques Matensi-Kubanza, Chair of the African French Speaking Community Support, shared some of the impact on the community his organisation workers with. He highlighted the long processing times and differences between visas. Some, including visitor and study visas, are short. However, other types of visas can take six months or longer. Being in limbo between these applications is hard, as people risk losing their job if the employer asks to see their right to work - which they have, but can't prove until they receive a new visa.
Delays from the UKVI, switching between visas, being asked for further evidence are all issues that can cause even longer waits.
Jacques added that low-income workers on visas are experiencing a difficult situation of financial hardship. "Most of these workers can't access benefits in this country, nor social housing. They can't access welfare support, and on top of these charges, there is the rising cost of living - food, fuel etc. The increased costs of visa fees has a detrimental effect on these migrant workers," he said, adding his organisation was seeing an increase of people losing their homes, falling into debt with loan sharks, and even some cases of sexual exploitation.
The meeting also heard from people with lived experience, who shared the impact and consequences going through the visa and settlement system had on them.
Tamara Francis, steering group member for Migrant Voice visa fees campaign, said: "I have been here for 25 years but am still paying for my visas. I don't know what kind of pension I will have, it's too little and yet I am juggling three jobs. I want you to imagine the Covid lockdown. That's our life, everyday. It's like you don't have a life. Everything the Home Office is doing regarding these fees, it violates human rights law."
The Anti-Racist Officer of the Birmingham Trades Union Council Farheen Ahmed said: "This government has shown time and time again that they want to pit British citizens against migrants. Saying that visa fees are increasing because public sector workers are striking is absurd. The richest PM in the history of this country is giving himself tax relief."
Migrant Voice member Farisai Dzemwa, who is still living with the effects of Hostile Environment policies, shared her experience. "I have indefinite leave to remain. I'm a qualified nurse. But I don't belong," she said. "At work, I have been called names. When Covid came I was a hero, I did not feel like a hero. I caught Covid four times. I worked in places where customers did not want me because I am Black. The fees are going up every year. Every time I feel like I'm almost there, the fees go up. I then have to work more hours. My son has to sit at home alone all the time. I can't think about pensions. I'm thinking about what I am doing tomorrow. How can that be human? I'm stuck in a vicious cycle."
Anastasia Synodia Chokuwamba, a refugee from Zimbabwe who is passionate about the integration of new communities, brought into the discussion the long process that those who have come to the UK as asylum seekers already go through before they have Indefinite Leave to Remain. She went through a lot of difficulties during the asylum process, waiting 11 years for refugee status, and still struggles to make ends meet today. "I work three jobs. I start work at 5am, finish at 9pm. I can't save up for citizenship. We can't stop making noise until this process is changed," she said.
The meeting was then opened for general discussion, with participants sharing their experiences and thoughts on how to bring the issue of visa fees and settlement process to wider attention. Migrant Voice then invited everyone present to join our upcoming Day of Action against extortionate visa fees on 31 October, either by organising their own activity or by taking part in ours.
"Thank you Migrant Voice for the meeting today. It has helped me to validate the pain I feel everyday as a migrant and refugee. To be with others in the same situation as me. So that I know I'm not alone," Anastasia said at the end of the meeting.
Migrant Voice is planning a national Day of Action with its partners from across the country on 31 October 2023 to raise awareness of the issue and pressure the government to reduce the visa fees instead of increasing.