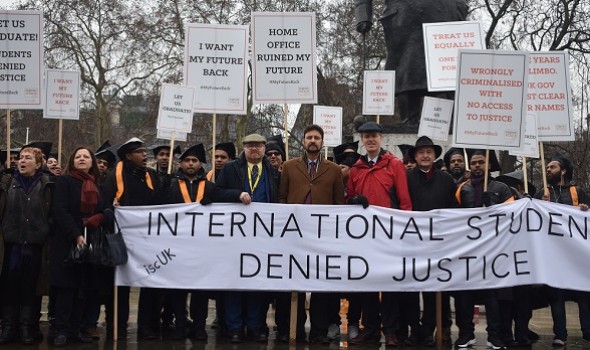 SATURDAY 12 FEBRUARY, 2022
Migrant Voice director Nazek Ramadan is preparing to push ahead with our #MyFutureBack campaign after the discovery of new evidence and parliamentary questions about the Government's precipitate action against tens of thousands of overseas students.
"The BBC Newsnight programme [on 9 February 2022]," has given a huge boost to the campaign we have been running with a group of students who first came to us for help four years ago," she said.
The programme's investigation spotlighted the flawed evidence used in the allegations of cheating and subsequent mass expulsions, and interviewed students who had managed to raise thousands of pounds in legal fees to win judgements that cleared their names – but who have not been compensated for their wrecked lives.
One of those who won their case, Shakil Rathore from Pakistan, told the programme, "If its wrong in my case, which I have proven, it might be wrong in every case." The case cost him more than £50,000. Despite winning, "I have lost the years that I can never get back."
The programme not only questioned the reliability of the data supplied by ETS, the company administering the English-language test centres where cheating was alleged, but also pointed to "worrying questions about what the Home Office knew about the reliability of the organisation itself."
Newsnight Correspondent Richard Watson reported that lawyers were considering bringing a "class action" – where a group of people are represented collectively by a member of the group – and that the Home Office had told the programme "that if the scandal happened today students suspected of fraud would get the chance to prove their innocence."
Further criticism of the expulsions and the Home Office's subsequent failures to respond to criticisms of its actions came in Parliament on 9 February, when 10 MPs put questions to Immigration Minister Kevin Foster. They shared our campaign's calls for justice and our demands to implement a simple, clear process for the students to get justice.
Several MPs asked what action the government planned to take to right this wrong? Stephen Kinnock MP said that "the Home Secretary must now take full responsibility for this shocking miscarriage of justice," and asked if the Immigration Minister would "commit now, from the Dispatch Box, to a mechanism that will allow innocent students to clear their names?"
Labour MP Stephen Timms described the matter to Newsnight as "an utter disgrace" and commented: "Basic British rules of justice were almost entirely overlooked."
In an interview on the Newsnight programme, Nazek Ramadan said, "They [the students] came here for the best education in the world. They were treated like criminals, to be handcuffed and put in detention."
Now she says Migrant Voice will work with the students to try to ensure that the Newsnight investigation is not shrugged off but leads to action: "This has been a terrible injustice, but we hope that, spurred by this new evidence, the Government will do the right thing and help get these lost lives back on track."