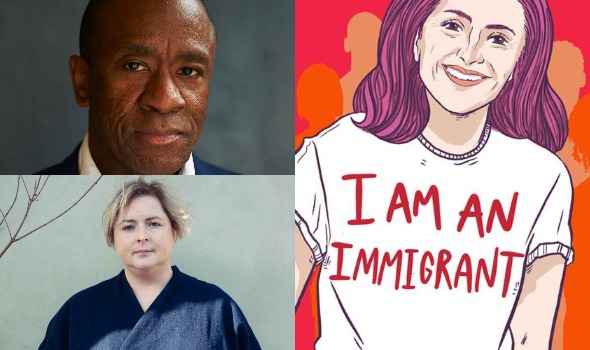 A new podcast launched aims to combat toxic ideas surrounding migration in Britain.
Created by activist and actor Christine Bacon, who is a supporter of Migrant Voice, the podcast consists of nine weekly episodes, including interviews with actors Siobhán McSweeney, a star of the Channel 4 series Derry Girls, and Lucian Msamati of Game of Thrones.
Christine said that the podcast, titled I am an Immigrant, aims to "breathe new life into conversations about immigration".
"The podcasts are not about which immigrants are good, or how many is too many," she added.
"They are not a commentary on the 'immigration issue'. They are a place where we can express ourselves in the way we choose, where we can be funny, insightful, insecure, weird, eccentric, outspoken and most importantly, human."
Other guests on the podcast will include Nicholas Hatton, CEO of the3million, the largest campaign organisation for EU citizens in the UK; Bafta-nominated actor Babou Ceesay; Francisco Gómez, a veterinary surgeon who lives in Derbyshire; and Meltem Avcil, a former child detainee who is now an immigration detention campaigner and social entrepreneur.
"When I came here I learned quickly to stop talking to people at bus stops: it never, never ended well," says Siobhán of her experience of moving to the UK on the podcast.
"It took me ages to not to feel dreadfully rude that I wasn't even acknowledging the other person at the bus stop."
Christine is also Artistic Director of ice&fire theatre, which explores human rights stories through performance. She said that the aim of the podcast is to "narrow the gap between how our society and our culture sees immigrants and how immigrants see themselves".
She was inspired to create the podcast after reading a report by Coventry University, which found that immigrants are largely portrayed as "victims or villains" in the British media, instead of as a normal part of British society.
The report, which Migrant Voice contributed to, found that the voices of migrants themselves are too often missing in the UK press.
Supported by the Paul Hamlyn Foundation, a short preview of the podcast can be found here. The podcast will be available on all podcast platforms.
The I am an Immigrant podcast launched on 1 July.
Image credits (clockwise from top-left): portrait of Lucian Msamati (Jon Holloway); I am an Immigrant art graphic (Ada Jusic); portrait of Siobhán McSweeney (Kristina Sälgvik)