MV members support refugees at rally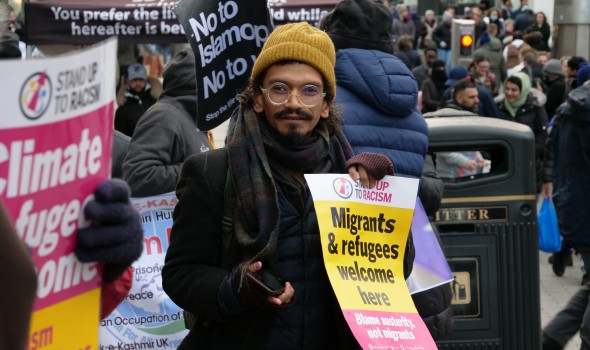 Migrant Voice members attended a rally in support of refugees on Saturday (27 November), following the recent tragedy in the Channel which claimed the lives of at least 27 people as they attempted to reach the UK.
Hundreds gathered in Birmingham city centre expressing their support for migrants, refugees and asylum seekers fleeing persecution and war. They called for safe and legal routes, and for the UK government to welcome people seeking asylum
Children carried handmade signs. "We are all human beings," read one placard. The rally was co-organised by Stand Up To Racism Birmingham.
Hope Ryan, a young activist from Birmingham, told us that the UK government must introduce safe and legal routes to prevent further deaths.
"Words can't describe how frightening the places they must've come to ever get on that dinghy, and what we have to make absolutely clear is the reasons why ordinary people, like you and me, have to get on those boats and put themselves at risk is not because of the smugglers," said Ryan.
"The smugglers are growing because the Tory government and other governments, the French government and so on, are not giving refugees their international human rights to claim asylum."
Among those who drowned in the Channel last Wednesday were 17 men, seven women - one of whom was pregnant - and three children.
Image credit: Adam Ali