Join our volunteer team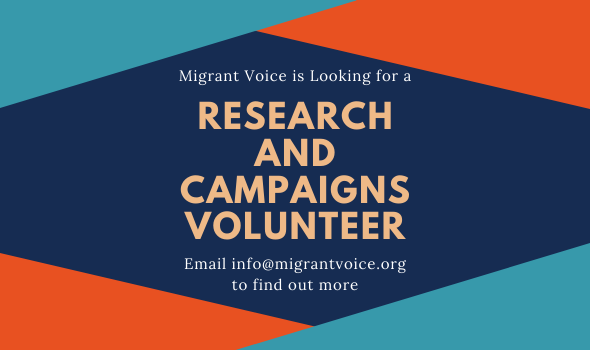 Migrant Voice is looking for Campaigns/Research Volunteer to join our team. We're looking for someone with good research and writing skills to help produce research documents, briefings, campaign documents, and provide other support for our campaign focusing on the extortionate cost of visas. You should have a good understanding of migrant and refugee issues.
If you are passionate about these issues, then get in touch.
The volunteer will work closely with the staff team and other volunteers.
What we are looking for:
Experience in researching complex issues.
Ability to produce accurate research documents
Knowledge of the key issues that affect migrants and refugees
Excellent verbal and written communication skills
Good computer skills
What can you gain from volunteering with Migrant Voice?
Working within a passionate and close-knit team
Being part of a national campaign looking to make real change for migrants and their families across the UK
Learning from experienced campaigners and activists from within the migrants' rights sector and the wider migrant community
Gain experience in research and campaigning on important social issues
Location: For the time being the volunteer will be working from home (due to Covid-19) – although space may be available if needed at our London office in Kings Cross (or at our other offices if outside London.)
Volunteering hours: 1 day per week (flexible hours Mon-Fri)
Duration: We are looking for someone who can join us for 3 months with the possibility of an extension or renewal
How to apply: If you are interested, please send your CV and a short cover letter explaining why you are interested in this position. Send to: [email protected] For further information please email [email protected]. If shortlisted, you will be invited to attend an informal interview.