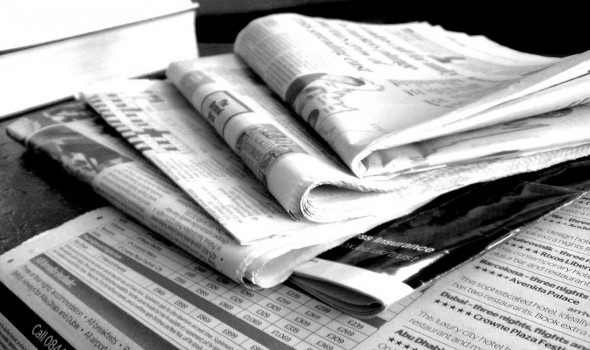 International Migrants Day is a day to celebrate migrants and migration. It's also a day when migrants can make their voices heard a little more easily than on other days of the year.
This year, many of our members have written letters to the Editor at local, regional or national newspapers – some with a message of hope, others raising concerns about discrimination or injustice sometimes faced by migrants.
Here's a selection of those letters.
From London…
Dear Editor,
On International Migrants Day (18 December) I'm celebrating my Pakistani friend's cooking. I would be dead without it.
I am Polish and I hate cooking which is disgraceful in my culture. Thank Momna for keeping me alive. Migrants forever! #migrantfriend
Iwona, Hendon
Dear Editor,
Native Italians are ageing and in fifty years from now they will be extinct.
Immigration is a resource. We need good young families welcomed in our country and in continental Europe.
On International Migrants Day, I want to say that Brexit, anti-immigration policies and xenophobia are wrong.
Well-regulated immigration is the right future.
Mario, Chelsea
Dear Editor,
Last week we saw Raheem Sterling talking openly about racism in the British media. On International Migrants Day I want to remind people that racism is something a lot of migrants face.
Much of it is institutionalised. But I disagree with the idea that "institutionalised racism" – as defined in the Stephen Lawrence case – is unconscious. It's part and parcel of a lazy culture that's full of unchallenged assumptions, stereotypes and prejudice.
By saying racism is unconscious, you're telling individuals that they're faultless, that it's the group that is plagued with this disease.
Racism is often conscious and deliberate. But whether it's conscious or not, it is unfair and uncivilised. We must dissociate ourselves from anything related to it.
Mohamed, Sutton
Dear Editor,
We are all humans. On International Migrants Day, I'm asking why the lives of some humans, often migrants, are worth less than others?
On the day of the Grenfell Tower fire, I spoke with three people who were totally emotionally detached from the tragedy. They showed no human feeling.
One man shrugged and told me, "well, these things happen."
I didn't expect anyone to say that. What hit me was the reaction to migrants dying. Because I am a migrant.
Those conversations have stayed with me for the last 18 months. They'll always stay with me.
Shama Alam, Clerkenwell
Dear Editor,
On this International Migrants Day, I'm reminded of my Polish friend Michael, who once told me that if he hadn't met me he would have continued to believe all black people were like the characters he had seen in Dr Dre hip hop videos.
Through our friendship, which began at work, he was able to see close hand that we both had the same family values, distaste for people with a lack of manners and a love for, funnily enough, rap music.
Lex S., Hoxton
Dear Editor,
Human rights are acquired from birth. They must always be respected, irrespective of race, place, gender, religion, beliefs or skin colour.

It was International Human Rights Day last week. But I don't think human rights are a reality for everyone in the world.

Today is International Migrants Day. But I see lots of migrants who don't have human rights. Many people are forced to flee because in their countries they face oppression, have been imprisoned for years, banned from many professions, and lost the right to speak freely.
I want to see human rights for everyone, migrants and non-migrants.
Nez, Islington
Dear Editor,
On International Migrants Day, I want to thank the Financial Times for bringing the injustice faced by tens of thousands of international students into the spotlight.
I am one of those people. In 2014, I was about to start my business and I'd hired some British workers when I was accused by the Home Office of cheating on an English language test. I didn't cheat but all my rights were taken away – my right to study, work, rent, drive a car. I've been broken down mentally and slowly losing my family ties. I came to this country from Bangladesh with a good character, with dignity, with hope to get a good degree and good experience.
Now everything has been taken away from me. All I want is to clear my name.
Amin, Stratford (London)
From the West Midlands…
Dear Editor,
On this International Migrants Day, I want to express my anger and deep concern over the shockingly increasing number of destitute asylum seekers struggling in Birmingham.
Despite the UK's reputation as a country that respects justice, equality and fundamental freedoms; in recent years the UK government has not been doing enough to support people fleeing from persecution and violence. I have seen in the past few years that asylum seekers or claimants of international protection are not getting the protection that they deserve under the human rights convention. This must change.
Although there are so many wonderful people in the UK who do their best to welcome refugees and asylum seekers into this great country, I however would like to call upon the media in this country to help in the fight against the negative and dehumanizing stereotyping of migrants by for example highlighting the positive contributions that migrants make to the UK economy.
In my view, the obvious solutions to this issue would be for the government to come up with mechanisms that would ensure the protection of refugees and asylum seekers and hence prevent them from becoming destitute. Since many asylum seekers desire to be gainfully employed instead of relying on public funds, it would be a good move on the part of the government to allow asylum seekers to get work permits so that they can be employed whilst they are waiting for their stay in the UK to be regularised.
Agnes, Birmingham B19
Dear Editor,
As I reflect on the plight of refugees and asylum seekers in the UK, I find myself weeping from inside and filled with so much sadness on this day as we commemorate International Migrants Day. I reckon the question that many of us in this nation need to consider, is the desperate situation arising out of the conflicts or wars in different parts of the world that drive people to leave their own countries of birth to come and seek political asylum in the UK.
Before stereotyping immigrants and refugees, we need to consider that it is not easy for someone to leave his/her country of birth and cross the deadly Mediterranean sea, only to end up facing a hostile environment after landing on the shores of the United Kingdom where many immigrants are sleeping rough on the streets of many UK cities.
Many of my immigrant friends and those who are coming to this country to seek political asylum from countries like Syria and Yemen have dreams, hopes and aspirations like anyone else. Yet they face xenophobia from the public and are demonised by certain sections of the British press.
As we mark International Migrants Day, I would like to appeal to British law makers and immigration authorities to realise that many of the asylum seekers who come to this country have lost everything and some of them have seen their friends and relatives living and dying in desperate situations.
As many asylum seekers struggle to find accommodation, my call to the city fathers on International Migrants Day is to please open the empty and unused homes for all in our cities.
Loraine M, Coventry
Dear Editor,
As we mark International Migrants day, I am left wondering whether the coming Christmas is going to be a merry or miserable one for the Windrush generation. I was very concerned to follow the Windrush scandal, which saw Commonwealth nationals living in the UK wrongly deported or threatened with deportation and deprived of medical care because they lacked correct documentation.
It was heart-breaking to hear the personal stories of people who moved to the UK when they were still young children only to be deported back to commonwealth countries after being referred to as illegal immigrants.
In September 2016, a charter flight carrying 42 deported Jamaican nationals landed in the Jamaican capital Kingston. What I find particularly disturbing is the question of the frequent reference to foreignness, and the question of who counts as British, since this question was central to the Windrush scandal. I strongly feel that there is a need for the British government to revisit its draconian immigration laws in order to avoid the recurrence of the Windrush scandal. In many instances many commonwealth nationals who were deported or those who faced deportation did not even know that they had irregular immigration status until it was too late.
What I find revolting is that the Windrush generation were turned into illegal immigrants, and this is precisely how immigration control works in the UK. There are no sharp divisions between legal migrants over here and illegal immigrants over there, neither in law nor in everyday life.
I am of the opinion that the whole UK immigration system needs to be completely overhauled and those who were victimised or deported following the Windrush scandal should be flown back to the United Kingdom so that they can be united with their families this Christmas.
Vimal, Handsworth
Dear Editor,
As the UK joins the rest of the world to celebrate International Migrants Day, I would like to thank the wonderful people who have provided me with support ever since I arrived on the shores of Britain from my country of birth Syria a few years ago.
Since I arrived in the country as an unaccompanied minor, I was looked after by my foster parents who made me what I am today. I managed to go to college and to complete my A levels and I am now planning to go to medical school. If I had stayed in Allepo, Syria, where I was born, I would probably be dead by now or I could not have managed to find the opportunities that I managed to get in this country that are enabling me to utilize my potentials.
I live in Aston, Birmingham, where I have been supported by many locally born people of different ethnicities. Despite some negative issues that have been mentioned or are mentioned by many migrants who come to the UK to claim political asylum, my experiences of life in the UK have largely been very positive. The International Migrants Day that we celebrate today provides an opportunity for many migrants from my country and other parts of the world to celebrate and to recognise the huge value of a multi-cultural society.
When I graduate from medical school in a few years from now, my plans are to continue working as a GP in Birmingham, so as to give something back to the community that has supported me over the years after coming into this country with nothing,
Yusuf, Aston, Birmingham