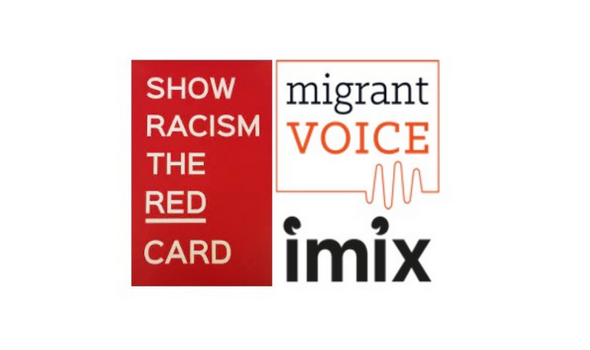 Using education and sporting role models, Show Racism the Red Card will work alongside IMIX and Migrant Voice on an innovative new campaign to challenge the current narrative of migration.
18 months of funding will see IMIX lead a coalition that includes Migrant Voice and Show Racism the Red Card. Our collective aim is to challenge and address the common misconception amongst the general public of 'illegality' when describing all refugees and asylum seekers. This is a term which is rarely challenged when used in the media and feeds the "good versus bad" migrant narrative. We know that this term is often used in an arbitrary manner, dehumanising migrants, refugees and asylum seekers.
Sport is well known as an area that transcends barriers, builds friendship and trust, positively impacting people's opinions and perceptions of migrants and asylum seekers.
The now infamous personal testimony of Sir Mo Farah being trafficked to the UK as a child has had a huge impact with a 20% increase in calls to the national trafficking helpline, sparking debate and conversations around the trafficking of unaccompanied children and the very real risk of losing citizenship under current Government policy.
As a coalition we will develop and deliver a campaign that takes learning from Show Racism The Red Card's current education programme, IMIX's sector expertise in narrative change and sees Migrant Voice bringing the lived experience and delivering media training.
Ged Grebby, chief executive of Show Racism The Red Card, states:
"Show Racism the Red Card have worked with Migrant Voice for many years now and we have always been impressed with their work and the structure of their organisation. We were therefore delighted to be part of this important new project to use the high profile of sporting personalities to reset the narrative on immigration. Far from being a negative issue, immigration is something that has made Britain GREAT and at Show Racism the Red Card we celebrate the impact migrants have made to our society.
Gary Lineker is a longstanding patron of Show Racism the Red Card and we could not be prouder of him for standing up to the UK Government attacks on migrants. We look forward to working with IMIX and Migrant Voice a project we hope can have a long lasting impact on the UK"
Migrant Voice director Nazek Ramadan said:
"We're proud to be partnering with Show Racism the Red Card and IMIX on this new project. This new 'illegal migration bill' and the toxic, incendiary and fear-mongering narrative that surrounds it shows why this project is so needed now. Both the policy and its language will have far-reaching impact on the lives of thousands but also attempts to foster a more divisive society. Our project will work to challenge such unhelpful, inflammatory narratives and present the amazing true-life reality of our communities."