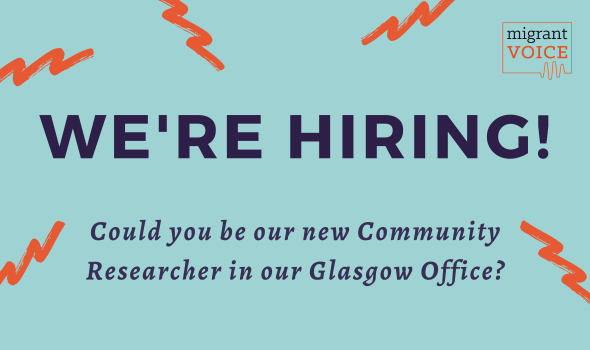 Migrant Voice is looking for an enthusiastic, self-motivated and proactive Community Researcher to join our team part time. The Community Researcher will conduct a scoping exercise and produce an internal report outlining how Migrant Voice can continue to strengthen our base and core work in Glasgow.
The successful candidate will have strong experience working with migrants and refugees and experience of undertaking community research, consultation, data collection, data analysis and writing reports.
The Community Researcher will join our team 2 days per week from September for 6-7 months.
Applications should be submitted by writing no more than 2 pages A4 outlining how you fit the criteria for the post and send this together with your CV and the completed equal opportunities monitoring form.
Deadline for receiving all applications is: 6pm on Wednesday 18 August, 2021. Interviews with those short-listed will take place on Tuesday 24 August, 2021.
All applications to be emailed to [email protected]
Please find the job description by clicking here and an equal opportunities monitoring form by clicking here. For more information contact [email protected]
Please note we are unfortunately unable to arrange work permits for people who do not already have the right to work in the UK. Ideally the postholder will be based in Glasgow, but we can be flexible. The role can be largely homebased in the UK, with office space provided in Glasgow if required.
________
Summary of project activities
The Community Researcher will:
Undertake a scoping exercise, collect and analyse the data in consultation with Migrant Voice staff team and produce an internal report on the issues affecting migrants in Scotland (including consulting with network members on their priorities)
Organise community network meetings providing safe spaces for migrants to come together, discuss issues and policies affecting their lives and take part in scoping exercise
Organise regular drop-in days for migrants to come and find out more about our work, raise issues of concern, connect to other migrants, and get information, support and signposting where needed
Work closely with the MV staff team to organise a number of other core activities such as media training and campaigning
Strengthen the development of the Glasgow Migrant Voices for Change Network
Conduct outreach and build relationships with a number of migrant groups and organisations (at least ten)
Increase our network membership as well as engage existing Glasgow network members in our work
Also, please find the job description by clicking here.
Migrant Voice (MV) is a national, migrant-led organisation working with migrants from all around the world with all kinds of status, including refugees and asylum seekers. We develop the media skills and confidence of migrants with the aim of strengthening their voices in the media and civil society in order to counter xenophobia and build support for our rights.