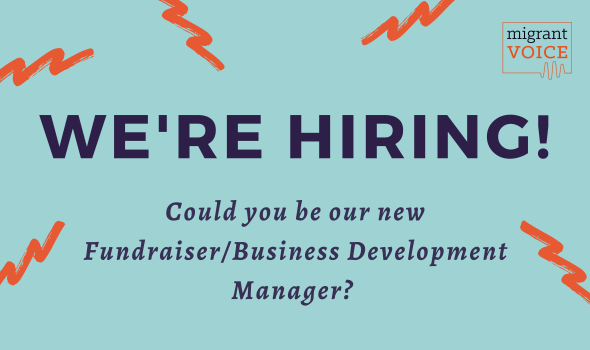 Migrant Voice is looking for an enthusiastic, self-motivated and proactive Fundraiser and Business Development Manager to join our team part time. We require an expert in fundraising, income generation, partnership building, and organisational development in the UK, to lead on the implementation of our new fundraising strategy.
The successful candidate will have a strong track record of securing funds from small and large trusts and foundations, communities, corporates, major donors, and individuals. They will help the organisation achieve financial sustainability and growth through identifying new funding and development opportunities for new income streams, while also submitting a number of bids to trusts and foundations.
The Fundraiser and Business Development Manager will join our team 2 days per week from the middle of June for 10 months. (This may be renewed, subject to funding.)
Applications should be submitted by writing no more than 3 pages A4 outlining how you fit the criteria for the post and send this together with your CV and the completed equal opportunities monitoring form.
Deadline for receiving all applications is: 6pm on Monday 31 May, 2021. Interviews with those shortlisted will take place on Monday 7 June, 2021.
All applications to be emailed to [email protected]
Please see the full job description here and download the equal opportunities monitoring form here. For more information contact [email protected]
Please note we are unfortunately unable to arrange work permits for people who do not already have the right to work in the UK. Ideally the postholder will be based in London, but we can be flexible. The role can be largely homebased in the UK, with office space provided in London if required.
________
Summary of project activities
The Fundraiser/Business Development Manager will:
Lead on the implementation of our new fundraising strategy and its continuous development.
Work closely with the senior leadership team and the Sustainability group.
Lead on bid writing to Trusts and Foundations to ensure financial stability and growth.
Identify potential new funders for core and project work in relation to the strategic plan and maintain good relationships with existing ones.
Develop and increase the organisation's proportion of income generated from donations, and income generated from CSR, legacy, individuals, crowdfunding, community activities, etc.
Ensure fundraising activities and asks accurately reflect and highlight the values and work of the organisation and the individual projects.
Migrant Voice (MV) is a national, migrant-led organisation working with migrants from all around the world with all kinds of status, including refugees and asylum seekers. We develop the media skills and confidence of migrants with the aim of strengthening their voices in the media and civil society in order to counter xenophobia and build support for our rights.