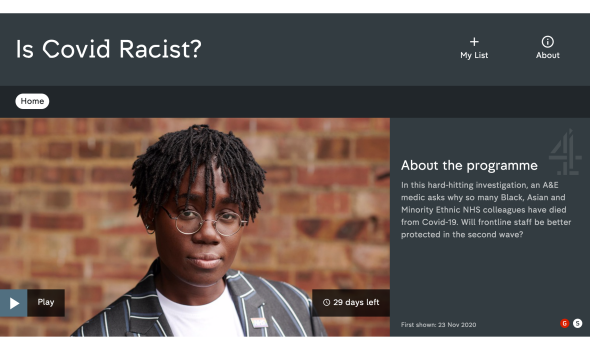 Well, is it? That was the question that an hour-long TV programme set out to answer.
It took very few minutes to point out the absurdity of the question. Although two-thirds of frontline NHS Covid deaths are people categorised as Black and Minority Ethnic, BAME doesn't really exist. It's just the British term for the country's non-white people. They are Africans, Asians, Latin Americans, Pacific islanders. There's obviously no genetic link.
Equally risible is the idea that the amount of melanin in the skin is a factor in falling ill from the pandemic.
Having established that basic fact, Dr Ronx Ikharia moved her inquiry on.
Everybody deserves the right to good health, she pointed out: "If I were Prime Minister and someone said one group was dying at disproportionate rates, I would ask, Why?"
So she put the question to various doctors and leaders of community groups and organisations. The answers were hardly surprising: for years the NHS has depended on migrants and many work on the frontline and indeed the bottom line too and in hazardous conditions they are bound to feature prominently; BAME people were less ljkely to be furloughed, often feeling too insecure to speak out about lack of safety equipment; for the same reason, or because of poor pay (and the need to save for exorbitant visa fees) they frequently put in a lot of overtime, which took its toll on their health ("If they don't follow what their managers say their contracts won't be renewed") – oh yes, and "there is structural race inequality throughout the NHS. [...] years and years, decades and decades, and centuries and centuries of inbuilt racism".
It's an awkward message to receive. "When we talk about race," commented Ikharia, "racial equality, institutional racism, structural racism, people get uncomfortable." They don't necessarily want to discuss such issues.
It's not that no action has been taken in response to the fear and statistics: government spokespeople point to guidance issued to help staff stay safe as well as to risk assessments, also aimed at improving safety.
But it would be insulting to block out the views and worries voiced in this programme: "We feel abandoned, we feel we are being taken advantage of, we feel devalued."
So, no Covid isn't racist, concludes Ikharia, but "it would be nice if somebody from the government just acknowledged that there have been failings, to tell us that we are going to help make sure that this doesn't happen again."
* Is Covid Racist? can be seen on the All4 website, https://www.channel4.com/