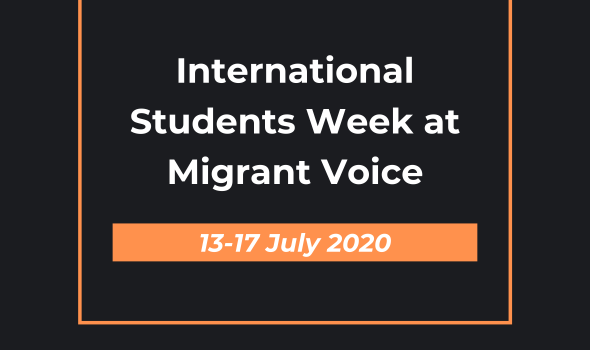 Welcome to International Students Week at Migrant Voice!
This week (13-17 July), we are celebrating the international students who come to the UK and raising their voices and the issues affecting them.
Follow us on Twitter, Facebook and Instagram for lots of great daily content. We'll be sharing facts and stats along with blogs written by international students in the UK and calls for policy changes.
Read blogs (here and here) by international students who are frustrated that the Government is waiting until 2021 to introduce the new graduate visa, when this year's students have already had their studies and lives disrupted so much by Covid-19. Here's another blog written by an international student who, like many, faced the difficult choice between staying in the UK and returning home when the lockdown started.
Another student wrote this blog about her nightmare when the post-study work visa was suddenly abolished in 2012 - she's warning students attracted by the new Graduate Route that the rules could change just as quickly and devastatingly for them.
And here's a blog by a student who wants the Government to do more to support international students during the pandemic, which has left many struggling.
This student had his future torn apart when the Home Office wrongly accused him - alongside tens of thousands of others - of cheating on an English test. He has now cleared his name and is back at university but he'll never recover his lost years.
We also have an article by the Head of Global Mobility at the University of Westminster, praising the contributions (financial and otherwise) of international students.
Many international students in the UK have faced very particular struggles during the Covid-19 pandemic and lockdown. Lots relied on part-time work to pay their rent and buy the essentials, but with the lockdown, most of that work disappeared. International students aren't eligible for any support from the Government so many have struggled simply to get by. Others have found themselves almost entirely isolated in their student accommodation and consumed by worries about the safety of their families, often thousands of miles away, while still facing strict deadlines on their academic work. The impacts on the mental health of many international students are likely to be long-lasting.
Yet life in the UK has always been difficult for many international students. Despite contributing an estimated £17.6 billion per year to the UK's finances, international students find they can access little support – financial or otherwise – and are left to their own devices. When they face problems, many find there is nowhere to turn for help.
Some face unfair treatment at the hands of the Home Office, including the 60,000+ students caught up in wrongful allegations of cheating six years ago, many of whom are still fighting to clear their names. We've been campaigning for justice alongside these students since 2017 – and we've made a lot of progress – but this came after several years of the students looking and failing to find support for their cause elsewhere.
Two years before the allegations that stole the futures of tens of thousands of students in the UK, the Government abolished the Post-Study Work Visa, a blow to international students across the UK. We lobbied for years for its return and last year, we learned the Government is finally bringing it back. Cue big celebrations! But then we heard this wouldn't be happening until 2021. This is devastating for many students graduating in 2020, especially given the immense disruption to their studies, experiences and financial situations due to the pandemic. This week, we've written to the Home Secretary, urging her to consider making this route available to students graduating in 2020.
All too often, international students fall through the cracks. Join us this week to hear some of their stories and call for policy changes that can ensure international students in the UK are given the support they need and can feel like equal members of our communities.