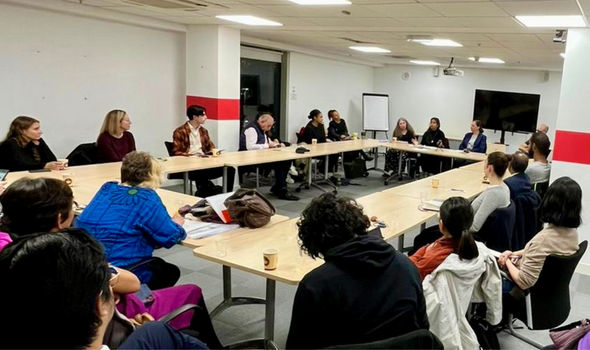 Government and policymakers have generally ignored migrants when talking about the cost of living crisis, Migrant Voice director Nazek Ramadan told a meeting the organisation convened last week. This includes those who must pay huge sums of money in visa costs on top of rising bills and prices.
The most dramatic examples of poverty and hardship come from individuals and organisations working with asylum seekers temporarily housed in hotels: "We saw children who walked barefoot because they had no shoes to wear," Emad Ebadi of the Iraqi Welfare Association (IWA) told participants.
Another IWA worker, Zainab Ibrahim, highlighted how even food provided to asylum seekers - who must survive on £7 per week - is often inedible or unsuitable for babies and children. Many people had suffered from food poisoning, she said.
Other issues raised at the meeting in Migrant Voice's London office included asylum seekers unable to access healthcare, children placed in schools 40 to 50 minutes from their accommodation (or losing school places when families were arbitrarily moved to different hotels), and people forced into unofficial or illicit work.
One of the asylum seekers who shared their own experiences at the meeting explained why he was forced to work illegally to support himself and his family, who are still abroad. He had been waiting for a decision for a number of years and had applied three times unsuccessfully for a permission to work.
The solution is simple, Emad and Zainab said: asylum seekers should be provided with a temporary permit to work, as the practice is in Germany, so they can earn enough to pay for their needs.
Some asylum seekers who have access to food banks still face challenges, Sophie Wickham of Action for Refugees in Lewisham (AFRIL) pointed out, due to the hotels' lack of cooking facilities, where they are kept for too long. She also suggested we advocate for free travel for asylum seekers in order for family members to see each other.
Christine Goodall of HEAR (Human Rights and Equalities) Network said her organisation has seen a significant rise in calls for help by asylum seekers. Many can't afford to pay for phone calls so charities have been providing sim cards to people in need - assistance that could be expanded so more people can get access to a phone. Christine also highlighted the plight of asylum seekers with disabilities and gave the example of a person who got in touch with her organisation. He was on a wheelchair and unable to leave his inaccessible hotel room, and faced many challenges getting food delivered to him from a food bank.
Mebrahtu Russom, from Islington Refugee and Migrant Forum said organisations in Islington worked with the local authority to provide support to about 750 asylum seekers living in three hotels in the borough, and set up a wellbeing project for them. The project offers counselling, befriending and a number of activities. It was suggested this good practice could be shared and expanded to other London boroughs hosting asylum seekers in hotels.
Legal aid has also been squeezed and is incressingly inaccessible, and the number of legal aid lawyers is shrinking, said Yumna Kamel of Right To Remain, although more than 100,000 people are waiting for an asylum decision. Participants described the effect on their morale as severe, and it was suggested that efforts should be imade to boost a sense of community through arts, language courses, and meeting and befriending others, as well as centering migrants' voices in the public debate.
While asylum seekers in hotels struggle to eat, private companies contracted to manage asylum accommodation have increased their profits, Maymuna Osman from Migrants Organise pointed out. She recommended extra pressure for improvement in housing conditions for asylum seekers in their community: "We can take care of each other."
Although the pressing problems of refugees and asylum seekers obviously received much attention at the meeting, the hardship caused by rising prices and costs faced by migrants in general also generated comments and suggestions.
Steps should be taken to protect working migrants, said Jacobo Belilty of the Coalition of Latin Americans in the UK, as many are vulnerable to exploitation and poverty. Mariko Hayashi, of Southeast and East Asian Centre (SEEAC), added that many migrants whose visa is linked to their employer, such as domestic workers, are also vulnerable to exploitation. Giving migrant workers the right to change employers would give them better protection.
Women on spousal visas who are in abusive relationships are impacted by the cost of living crisis, as they can't afford to move away from their abusive partner and support themselves and their children, another speaker pointed out. They also need to be supported.
A speaker from Status Now 4 All said "the cost of living crisis affects everyone, but especially the marginalised and those without a safety net. It oppresses the oppressed.
"We will continue to fight to change, we will continue to campaign to change this hostile immigration policies against migrants, and we will not be defeated. I hope you will join us in this fight," she declared.
James Tullett of RAMFEL (Refugee and Migrant Forum of Essex and London) shared the charity's recent report on 3C leave – granted to people whose visa expired while they wait for its renewal. While 3C leave allows people to retain the rights from their previous visas (such as work and accessing benefits), it is little known and hard for people to prove they are not in the country illegally. As a result, many have lost their jobs or access to benefits, he said.
RAMFEL is campaigning for a system in which all migrants can easily prove their status, reduce the time before people can apply for 3C leave, increase time between renewals and reduce the length of the settlement route.
Thanking speakers at the meeting for their powerful words, London Assembly member Sakina Sheikh said she was attending in order to learn about possible actions and recommendations.
"So much in our political system requires deep change: it's important to build a new vision, a system that works for everyone," she said.
She pointed to the Migrant Londoners Hub, a Mayor of London initiative that aims to provide resources and support for migrants in London, including those struggling with the cost of living crisis.
Mariko highlighted the need for an increased support for the infrastructure and resilience of organisations working with migrants to enable them to support their communities.
Other suggestions included regularisation of all undocumented migrants, free travel in London for all refugees and asylum seekers and a cut in visa fees migrants and their families must pay.
Don Flynn of Status Now 4 All concluded with a message of hope. "The migrant sector is doing well in polls. The public have learnt about the hostile environment and they are open to the idea that there needs to be fundamental change. We must be united in our work and campaigns. We need a rights-based approach to migration."
---
The discussion meeting, 'The impact of the cost-of-living-crisis on migrants', was held at Migrant Voice's head office, 200A Pentonville Road, London N1 9JP, on 1 November 2022. The aim was "to lead to a series of recommendations that we can take forward to policy makers and the public to call for change".