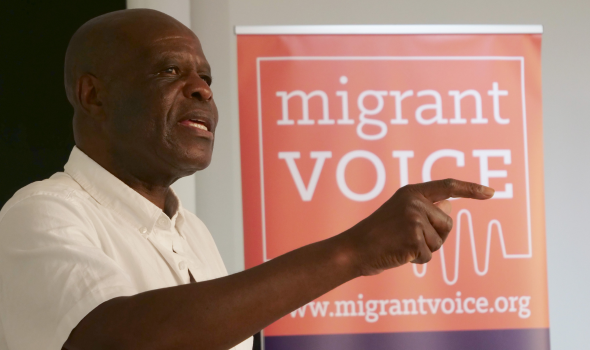 On 9 and 16 August 2023, our Birmingham hub held the first two Media Labs in a series of four sessions led by veteran journalist Selbin Kabote.
Over 10 participants, hailing from various migrant backgrounds, gathered at the Zellig building in Digbeth to master the art of written and verbal communication in two intensive sessions.
The sound of laughter and smell of samosas filled the air as Adam, our Birmingham Communications Worker, kickstarted the session with an introduction during which participants learnt about how they can contribute with tackling Migrant Voice's main ambitions: dismantling destructive rhetoric about migration through training and collaboration with migrants and media outlets, to relate authentic accounts of the migrant experience.
Selbin Kabote guided two comprehensive evening sessions, using his near 40 years of expertise and media know-how as a radio and broadcast journalist to introduce participants to the basics of written and verbal communication.
Week One honed in on how to effectively pitch and write a news story, with Selbin beginning the session by asking attendees to share their individual understandings of written communication with the group. Participants then split into smaller groups to discuss challenges to communication, drawing on their own experiences as migrants to share how language and cultural barriers, negative stereotyping and body language have acted as obstacles to their integration.
With ideas flowing freely, participants were engaged and keen to hear Selbin speak on the key tenets of pitching to editors. They listened eagerly as he explained the inverted pyramid style used as a template for pitch writing. The group partook in a short exercise analysing one of Selbin's own pitches, identifying key elements needed to create a persuasive pitch, including a clear angle, identification of your audience and a thoroughly researched topic. Their day ended with a more in-depth discussion on article writing, with Adam taking the stage to highlight the importance of a hook to draw the reader in.
One of the participants, Kwaku Appiah, said: "Learning how to write a pitch and article has definitely encouraged me to write about my own experiences as a migrant, about my story, life in my home country and my life in the UK. I found the training very worthwhile."
Week Two centred on building the confidence to communicate verbally. Selbin put a spotlight on helping participants develop their interview skills, as several members expressed an interest in how to approach others for written and video news stories.
The group analysed Selbin's interview with Vanley Burke, "Godfather of Black British photography", with whom Migrant Voice has collaborated to curate a photographic exhibition. Participants took turns to share examples on how Selbin confidently and clearly interacted with Vanley Burke, using his listening skills to formulate intriguing questions on Burke's creative approach.
Attendees then enjoyed a roleplay exercise in which Selbin interviewed Loraine, Migrant Voice's Birmingham Network Worker, on her poetry book, 'I Was Not Born a Sad Poet'. This visual example underpinned the skills required for participants to effectively conduct their interviews for their own articles.
A lively debate ensued after participants were then split into two groups to consider whether 'primary school aged children should take sex education classes'. The group practised their verbal communication skills during this exercise by engaging in a passionate discussion arguing for and against the motion, utilising what they had learnt to persuasively set out their points. It was uplifting to watch as participants came out of their shells to share their valuable contributions.
On the second Media Lab session, another participant voiced,"I find the training very helpful because as migrants, sometimes we go for interviews with Home Office or talk to the media about experiences, and we need to be confident when talking to different people so they can understand what we are trying to communicate. I really needed this training".
Following both events, we received encouraging feedback from attendees who fervently expressed their desire to collaborate further with Migrant Voice by producing a variety of content, from articles to social media reels and even ideas to create a zine, sharing their stories.
Thank you to participants for bringing your ideas and energy to each session so far, and to the team in the Birmingham office for arranging thought-provoking sessions designed to build collective confidence in our abilities to share our own stories on our own terms. A special thanks goes out to Selbin Kabote for his guidance and encouragement of participants, creating a comfortable, safe space in which fruitful collaboration is possible.
If you, like us, are now looking forward to the next two sessions focussing on contemporary forms of content creation, please do not hesitate to sign up using the eventbrite links below. You can also email [email protected] or Whatsapp 07849 182 225 if you would like to attend, but hurry as spaces are limited!
For the 30 August Media Lab, click here.
For the 6 September Media Lab, click here.