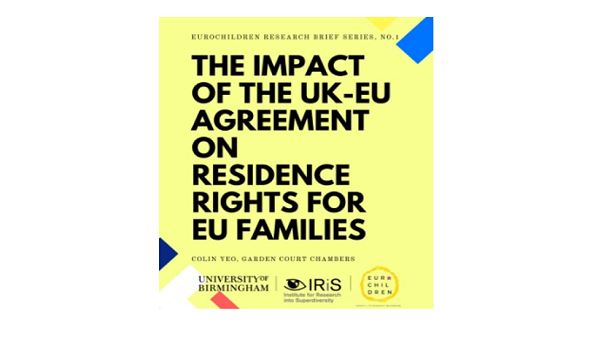 Eurochildren researchers have found that children born in the UK to EU parents will struggle to get documentation in the UK after Brexit.

Thousands EU citizens and their family members living in the UK are at risk of 'falling through the cracks', and their rights of future residence after Brexit are in question. Children are particularly at risk since their status is dependent on their parents.

"Where neither of the parents is British at the time of the child's birth, a child will later struggle to prove the British citizenship to which he or she is entitled from birth," said the immigration barrister Colin Yeo, one of the authors of the two research briefs published in April on the impact of the UK-EU agreement on residence and citizenship rights for EU families.
The research was carried out as part of the "EU families and 'Eurochildren' in Brexiting Britain" project led by the University of Birmingham, in partnership with The3Million, barrister Colin Yeo and Migrant Voice. The aim of the Eurochildren project is to examine the impact of Brexit on EU nationals' families, their sense of belonging, and their residence and citizenship rights.
Findings to date suggests that legal documentation will prove problematic for children of EU nationals residing in the UK even if they were born here. It is even more of an issue if parents who are living in the UK were abroad at the time of giving birth to their child, for example if they wanted to be close to family in other EU country.
The research studied two possible scenarios to understand the situation of EU nationals living in the UK after Brexit:
"No deal" scenario:
This means that UK would leave the EU on 29 March 2019 without a withdrawal agreement and with no new laws being passed. EU nationals, who reside legally in the UK, would suddenly become "unlawful" residents. Consequently it will become a criminal offence to work and would restrict their access to renting housing and services such as healthcare and bank accounts.
"Settled Status" Scenario:
This would be based on the UK-EU withdrawal agreement. Although researchers found that this situation would improve the circumstances for children born after Brexit, it would not have a retrospective effect and will not affect past status in the UK, still seeing many EU nationals and children living in limbo.
A sizeable number of EU families and their children are likely to fall into the cracks of the legal system.
To access both research briefs, go to eurochildren.a-generation-of-children-of-eu-parents-to-be-lost-in-the-intricacies-of-brexit-