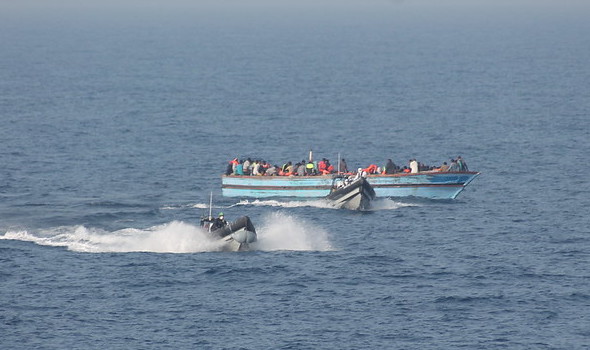 Another precarious boat of migrants in the Mediterranean Sea. Whether receptive or hostile, the commentary that accompanies it will often focus entirely on how European societies will be affected by this migration. When stories about migration to Europe are consistently associated with images like this, stripping migrants both literally and figuratively of any background, you might indeed be forgiven for thinking that migrants appear out of thin air at the borders of Europe.
But what about the place these people have left? What is the effect of migration on there? How to cope when loved ones disappear overnight?
These are some of the key questions posed by Netflix's prize-winning acquisition from the end of 2019 - Atlantics. Director Mati Diop's debut film opens in the suburbs of Dakar, Senegal's capital on the west coast of Africa. Raised in France but with Senegalese heritage, Diop is therefore at once insider and outsider in this setting.
A tense scene in which a group of young labourers are being denied their wages gets the ball rolling. Fed up with these working conditions, the men venture out into the menacing and angry-looking Atlantic Ocean, risking their lives to try and make it to Europe. We might assume the film will take us with them. All roads lead to Europe, after all.
Atlantics however stays firmly put, immersing us in the haze of Dakar and the predominantly female world of those left behind. At the centre of this is Ada, whose upcoming marriage to rich playboy Omar is the source of much excitement amongst her friends and family. Ada appears less keen on the match, but the pressure to sacrifice love in favour of wealth only increases when it turns out that Souleyman, Ada's lover, has left on the boat with the other men. Or has he?
In this vision of Dakar, the air is thick not only with heat and dust, but the spirits of those who have left. Strange spectres stalk the streets at night, and a mysterious fire breaks out in what would have been Ada's marital bed. Yet zombie horror film this is not. Rather Diop's sparing use of CGI and subtle evocation of the uncanny elevate this film from a worthy exploration of social class and migration to a lyrical treasure.
When asked about this supernatural element of the film in an interview for The Film Programme on BBC Radio 4, Diop described it as:
"a way to talk about the invisibility of this youth but its omnipresence at the same time. It's really a film about being haunted and how the ghosts are created within us."
One such haunting moment comes with a lingering shot in one of the men's bedrooms. The moonlight illuminates a bottle of aftershave on the side, lying waiting for a night out that will no longer come. As the owner acknowledges, business is slow at the local bar now.
Without getting into a discussion on the economic causes and effects of global migration flows, it is a scene that throws into sharp relief the impact of emigration on this local economy.
Herein lies the significance of Atlantics. As well as being a beautifully made, genre-defying film, it reminds us that the global story of migration is made up of many unique local ones. Advancing these stories and affirming the multiplicity of migrants' origins is hugely important - otherwise migrants risk being reduced to an abstract and threatening mass, perceived only in terms of their significance to the Europeans with whom they now share a home.
Atlantics is available to stream on Netflix UK
www.netflix.com

TOP IMAGE: LE EITHNE 15 Jun 2015 3 by Óglaigh na hÉireann, Flickr (CC BY 2.0)