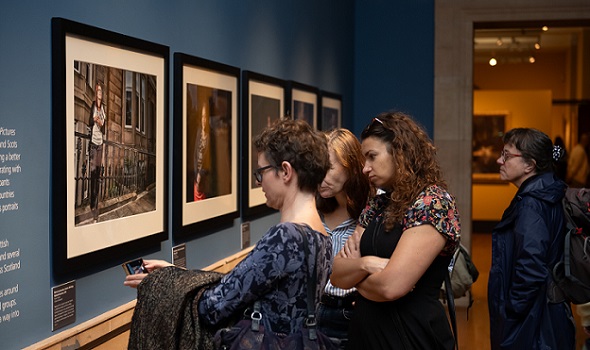 In the face of growing hostile rhetoric against migrants, it was fantastic to see so many people turn out for the launch of our exhibition "Putting Ourselves in The Picture" at the Kelvingrove Museum and Art Gallery in Glasgow.
The exhibition has 60 photographs in total, 50 taken by migrants about their lives in Scotland, and ten portraits by Karen Gordon. The pictures help tell the story of migrants living in Scotland, and will act as a record for generations to come about the importance of migration to the vast history and heritage of both Scotland as a country, and Glasgow as a city.
More than 150 signed up for the event, although many more came through the doors on the day to see the diverse range of photographs on display, featuring the stories of migrants who have made Scotland their home.
Migrant Voice Chair of Trustees, Habib Rahman, opened the event, saying: "We humans are mortal, but the paintings, art and photographs will remain for a long time to come. The people who come and visit and see this will remember migrants. Migrant Voice exists to give a voice to migrants. Those who are struggling, downtrodden, fighting for their rights, to them we help give strength, to be equal with everyone."
Nazek Ramadan, Director of Migrant Voice, expressed her delight at seeing so many people coming to see the exhibition and thanked everyone for having helped to make the exhibition. "Art and photography are important tools for us migrants to engage, in a safe way, for people who do not usually engage with us. It is important for us, as an organisation, to challenge negative perceptions and ensure that migrants' voices are heard and listened to, to tell our own stories."
The exhibition was officially opened by the Lord Provost of Glasgow, Jaqueline McLaren: "This feeling of place that belongs to all of us makes Kelvingrove the ideal venue for this exhibition, which tells the stories of people who have made Glasgow home, after coming from countries all around the world. In Glasgow we have a long tradition of migrants coming here to make better lives for themselves and their families. This means there is a strong history of the stories of the many migrants who came to Glasgow to tell."
We were also delighted that Professor Alison Phipps, UNESCO Chair in Refugee Integration through Languages and the Arts at the University of Glasgow, was able to speak at the launch, with moving words about the importance of migration and the how the defence of peace must be constructed in the minds of people: "Every single time Karen Gordon takes a photograph, she is constructing the defences of peace. She is doing work which she is uniquely gifted to do on this earth and at this time to make us safer. Glasgow is a UNESCO City of Music, and sometimes that music is the sound of a shutter clicking. What an astonishing exhibition".
Hing Fung The, one of the people portrayed by Karen Gordon for the exhibition, spoke about how "blessed" she felt about coming to Scotland: "When I came from Malaysia to England we didn't know about Scotland. Although we have pipers, and Scottish kilts and things like that in Malaysia during celebrations and marches."
Speaking at the opening Professor, Sir, Geoff Palmer, another participant in the exhibition, added: "It is wonderful to be here. This is a museum I visited many, many, years ago. Jamaica has that link, not only with Scotland, but with Glasgow. When I came to Glasgow for the first time in 1965 there was grass in George Square. There is no grass now. When I came to Glasgow in 1965 there was a Jamaica Street. Jamaica Street has been in Glasgow since 1763. So therefore Jamaica's link with this city goes back a long way. When we talk about "our city", we look back far enough, a lot of people have contributed."
The exhibition will run for a year at the Kelvingrove Museum and Art Gallery. It is part of our 'Putting Ourselves in the Picture' project funded by the National Lottery Heritage Fund.
Photo: by Anna Majewska from our launch event