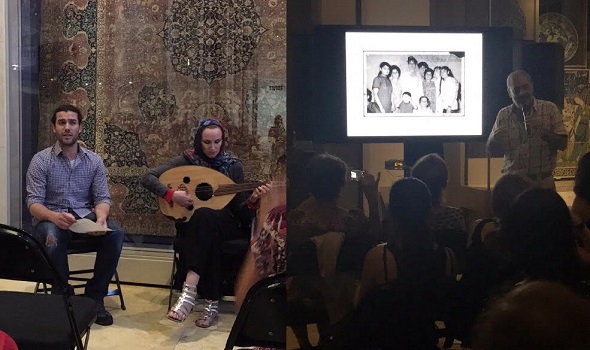 June 20 is World Refugee Day. To encourage a better understanding of refugees and their contributions, the V&A joined Refugee Week, a UK national programme started in 1998, hosting cultural, artistic and educational events this year from June 19-25.
"The theme for Refugee Week this year was 'Our Shared Future' instead of some small number of people with a specific immigration status," said Ruth Dewa-Ayu, Assistant Programme Manager of V&A Adult Communities team, one of the organisers of the V&A's events.
"This feeds into our firm belief that the V&A is a civic space that should be for everyone, and to achieve that we need to make sure it is relevant to everyone & people see themselves and their stories reflected here," Dewa-Ayu explained.
The museum brought in other community organisations to help organise the events. 'Help Refugees', a grassroots humanitarian organisation started off the series of events at the V&A by inviting a panel of humanitarians, activists and refugees to talk about the future of refugees in the UK.
The organisation also invited musicians, artists and poets who are refugees or activists interested in the issue to perform on the second day, providing an opportunity for cultural exchange.
V&A's Alice Power, Assistant Curator of the Rapid Response Gallery, contributed Refugee Week by leading a gallery tour. The gallery collects objects in response to major moments in history, culture and society that touch the world of art and manufacturing,
Power discussed the exhibitions related to the migration crisis, including the Refugee Flag hanging in the middle of the gallery, an orange and black flag representing the hope and solidarity for refugees from different countries.
"The flag aimed to bring the world together to support refugees," Power explained. "The designers want to show that though refugees are from different countries, they all matter."
Power also introduced the swimming costume designed for Muslim women that encourage more Muslim women to become lifeguards of swimming pool.
Besides discussing the exhibition related to refugee issues in UK, Power also introduced Mong Mong, a toy figure that designed to support the "left-behind children" in China, who rarely see their parents because they move to work in more developed regions but have to leave their children in the poor rural area.
In China, the term "migrant" describes not only people who migrates to other countries, but also people leaving their home to work in big cities. Due to the different levels of development between Chinese cities and countryside, many people "migrate" to big cities while leaving their children home because it is hard to bring them due to school policies, practical and financial reasons.
"The icon on the bag of Mong Mong is the WeChat, the most popular social media in China," said Power. "Mong Mong with the 'WeChat bag' shows that social media bridges left-behind children and their parents, no matter how far away."
Power finished the tour by talking about how the Brexit referendum may affect the future of refugees as well as encourage people to share their ideas with V&A.
"The participation of communities is crucial to us, especially the future of issue is determined by everyone," said Power.
Besides art performances and gallery tours, the Refugee Week events at the V&A also included presentations, workshops and conversations between refugees and curators, creating an opportunity for people to understand the lives of refugees.
To highlight the diversity of refugee groups, V&A also held events related to LGBTQ-refugees.
Dewa-Ayu said V&A has a long history of being actively involved with Refugee Week to celebrate the contribution of refugees to the community, but this is the first time V&A hosted a whole week of events as a "full festival" during refugee week. Dewa-Ayu was glad that the event brought staff from different departments of the museum working together for the same goal.
"We had an absolutely fantastic time organising, and then attending the V&A's Refugee Week," said Dewa-Ayu. "We worked with so many inspirational individuals and grassroots organisations who are making real differences in the world."
Refugee Week is the UK's largest festival celebrating the contribution of refugees and promoting understanding of why people seek sanctuary. Besides the V&A many other museums also hosted events related to refugees, contributing to "our shared future."
Photo: Left: Ahmad Makhzoum and Julia Katerina performed a collection of songs from the Levant, a cultural zone includes Jordan, Palestine, Lebanon and Syria, as well as some neighbouring territories.
Right: Issam Kourbaj talked about his family stories and artwork inspired by 5th-century BC Syrian boats.