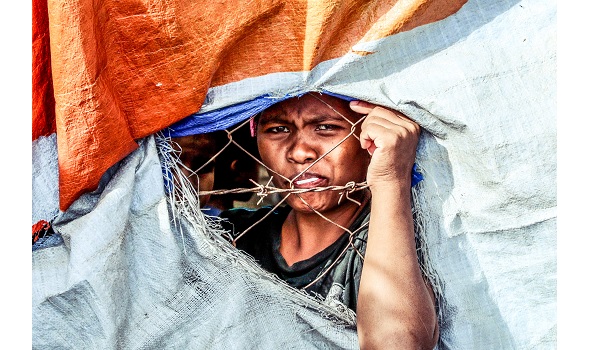 My name is Marta and I'm a migrant. I'm not seeking asylum. I'm just an ordinary girl who moved to the UK seeking better opportunities. Not that I was suffering or fleeing war. I'm from a small town in Italy, so no war, conflict or bomb was jeopardizing my life. But, as every other girl, or human being I had dreams: I just wanted to improve my life, finish my studies and find a good job. And, so far, I can just thank God for all the blessings. I've almost finished my studies, I have a job, and no visa to think about.
But still, I AM A MIGRANT. I'm a foreigner, English is not my first language and my accent is still really strong. I've received prejudiced comments, but I still consider myself lucky. There is no deadline on my staying here, I have mostly the same rights as a British citizen: I can find a job, travel as much as I want, but first and foremost, I HAVE RIGHTS.
I know not every migrant is as lucky as I have been. Many people's experiences are much harder than mine. Many people don't have the same rights I do. They can't work, or travel, or study. Many people didn't have the same choices I did. Many people were forced to leave their country because of circumstances that they couldn't control.
Many people leave their country to seek refuge. We humans seem to need categorizations for a better understanding of reality. Therefore, although I don't really like labelling a certain group of individuals, I'll use the term refugee.
A refugee is, generally speaking, a displaced person who, due to certain dynamics, such as war or conflict, has been forced to cross national boundaries and who cannot return home safely.
Unfortunately, what should be seen as an act of escape or salvation, is now - due to hostility pursued by certain media channels and some members of society – often delegitimised and is seen as both a threat and a scam. As a result refugees, asylum seekers and migrants are often depicted in a negative and stereotypical way.
This is why Refugee Week has been established: to celebrate refugees' contribution to UK society, a cultural and artistic series of events to raise awareness about what pushes individuals to leave their countries, seeking refuge and salvation. Refugee Week should be a joyful week, in which the sharing of experiences and the exploration of diversity is enjoyed as a form of personal enrichment.
But now that Refugee Week is over, people seeking safety tend to be forgotten by most of us. We forget about the hell a person coming from a nation at war has been through, we forget why refugees or asylum seekers embark on those journeys which too often lead to death. According to Missing Migrants, which tracks deaths along migratory routes, 1,242 is the number of migrants' deaths recorded in 2019 up to 27 June - many other deaths couldn't even be registered. This means that the number of the victims is likely much greater.
So, why would a person leave her/his own house, town, country for an unknown place, with no food or water, jeopardizing his/her life in every step of that journey? Or risk being sent back without even reaching the destination?
Why would a man leave his wife, aware, before his journey is even started, of the possibility of being tortured to death?
Why would a woman put her kids in danger on an overcrowded boat, with no food or water?
Why would a young boy hide in the engine of a bus to cross a border?
Why would a young girl climb over a fence and risk being killed or shot at any time?
HOPE
Hope is the driving force that pushes all of us, the hope of surviving, hope for a better life, the hope of salvation.
People embark on dangerous journeys to escape wars, conflicts, and poverty, with hopes for their future, that of their kids or loved ones, people seeking refuge, although that journey might lead to their death.
Not all make it: some are left to die, some are killed, and some are sent back.
And those who make it, don't encounter the welcoming dreamland they have been imagining. Instead, they find a hostile environment, in which indifference and silence reign.
Dreamland becomes a purgatory: a place of suffering and torment, a limbo in which, most of the time, those who should be supported and encouraged, are instead treated as criminals and kept in detention centres for an indefinite time for the "crime" of crossing a border to seek asylum, which is in fact no crime at all.
Aware of the risks, surely no one seeking a better life should embark on this dangerous journey.
But what are the other choices for an individual in that situation?
Wouldn't any human being try anything to save him/herself? And aren't our own western countries partly responsible for their need to escape? Isn't it because of our bombs that these people lost their houses, their jobs, their lives?
As long as we persist in looking through racist lenses, which allow us to have just a tunnel vision of reality, nothing will change.
As Plato observed in his myth of the cave, we are prisoners watching a projection of reality that doesn't correspond to the real world. Media has played a great role in shaping that projection for us. If, still using Plato's allegory, we don't leave the cave and open ourselves up to a true understanding of the world, we will never be able to perceive reality in its true form. The sun is incomprehensible for someone who has never seen it, and we will never be able to understand other people's reality until we abandon our current mindset and open up to a new understanding.
What I ask you today is to reflect just for a few minutes, on these questions: If I were in that situation, what would I do? If my kids' lives were in danger, wouldn't I try anything to save them?
TOP IMAGE: Through the torn tarp, Phil Warren, Flickr (CC BY 2.0)