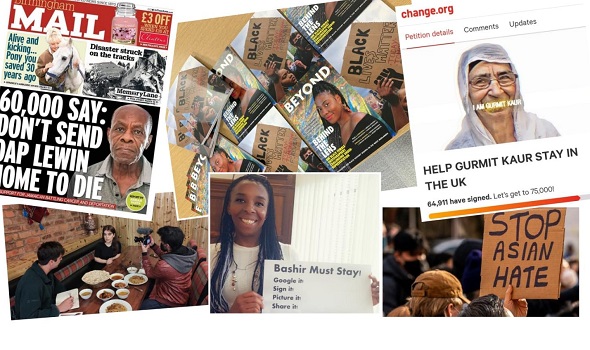 THURSDAY 23 DECEMBER, 2021
Our colleague Salman Mirza explore the highlights of our work in the West Midlands in the past year
"You have brought me to tears. We have won already. The way I see it, he has fought the fight because he had the best fighting for him. They have been called out … because of his situation, because of you. He will always be remembered as the one who got the public talking, whether they supported him or not. The fact of the matter is immigration behaves like an undiagnosed Cancer, now they are being exposed, the right treatment can be administered. They have been getting way with inhumane treatment of others for too long. Now the world knows the truth. And that's all done to you. We have won, just need a stamp in his passport for him to live his life in peace."
That's a quote from a supporter of Migrant Voice's Lewin Williams must stay campaign. Lewin is an elderly Jamaican man with cancer who was refused stay in the UK and is fighting to stay here.
One of the highlights this year has been our work leading on high-profile campaigns involving our members, where one of those we supported has recently obtained his status.
"I submitted all of the campaign stuff and it was granted very quickly," said Aliya Khan of Hope projects
These 'individual' campaigns address wider systemic issues, turning individual stories into communities' collective demands for change.
The numbers:
Three change.org petitions set up for our members
Video views: 1.3 million
59,000 shares on social media
178,000 signatures
Gurmit Kaur is an elderly Sikh woman who had been refused leave in the UK and whose new application to stay in the UK was refused recently. She has strong support from her local community and the wider public. It was heartening to find out at one of the biggest Sikh festivals in the UK a lot of people knew about the Gurmit Kaur campaign
Throughout the year, we have supported a large number of our members to successfully get their stories out in the media, both local and national, for example, with The Mirror covering Lewin's campaign. Recently, we worked with another member to get their story out. After the story was published, the Home Office granted entry clearance within 48 hours to our member who had been waiting months.
Earlier this year, we were approached by Stop Asian Hate UK, who wanted to organise an event in the Midlands. We assisted in this, including with press coverage, videos, co-ordinating speakers at their awareness raising rally, which local councillors also attended.
We have also been working with one of the biggest galleries outside of London, the IKON gallery in Birmingham, helping set up a photography exhibition with the world famous Vanley Burke to be showcased in the new year.
Throughout the year, we have organised virtual network meetings to facilitate our members' speaking out on issues like visa fees and the ten-year route to settlement, and having a say on new government proposals such as the new Nationality and Borders Bill.
We responded to the crisis in Afghanistan and brought people together from across the UK, including many Afghan individuals and organisations. With the help of legal professionals we drafted an email to MPs as there was - and still is - little or no guidance about Afghan nationals getting their family members to the UK.
Fun activities were also organised to develop people's skills in speaking out such as drama workshops.
Many of our members took centre stage and spoke publicly, such as at the Birmingham COP26 rally in front of a 2,000 strong crowd. And the response was great. "So powerful amid all the injustice, I'm inspired by your urging that we can win if we work together," said one person present.
To celebrate Black History Month, a group or participants from our Media Lab in the West Midlands created a new version of their own magazine, Beyond, both in electronic and hard copies.
Penning the opening message in the magazine, co-editor Althia wrote: "Some of us, like myself, had no previous media experience and struggled with even the most basic technology, yet here I am writing a welcome message in an online magazine!"
This year we have all been working in difficult circumstances - the Borders Bill, the wholesale changes to the Human Rights Act, not to mention the impact of Covid-19.
The lessons learnt have been that speaking out is in your best interest, staying silent is not. We have won people's right to stay and opened up an alternative narrative against the hostile environment.
"So glad things are changing; they may not be big changes, but I believe we can make some big ones soon," said a member speaking at our Zoom event challenging unfair immigration rules.