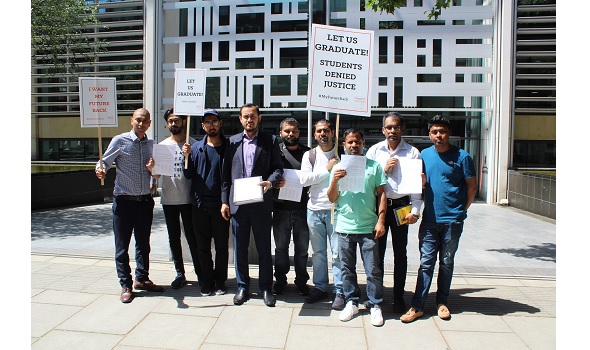 On Thursday 27 June, a group of the international students whose lives were torn apart by the Home Office in 2014 when they were wrongly accused of cheating on an English test delivered a letter by hand to the Home Secretary, asking him to make the statement that he has been promising. (See more photos below.)
More than 100 of the students directly affected had signed the letter. They and thousands of others have spent the last five years trying to clear their names - an almost impossible task in the courts - and many have now lost hope. This letter is a personal plea to the Home Secretary to give his statement and tell them what their futures will be.
The students were joined at the Home Office by Stephen Timms MP, a long-time supporter of the students and their fight for justice, and the letter was received by a member of the Home Secretary's staff.
The letter was also sent to the Home Secretary by post and email. (See a PDF of the letter here.)
Here's what the students wrote:
Dear Home Secretary Sajid Javid,
We are some of the tens of thousands of international students unjustly robbed of our visas and our rights by the Home Office in 2014 after we were accused of cheating on an English test. We are innocent but the government gave us no real way to defend ourselves, so we've been fighting for five years just to clear our names.
The Department you lead ruined our lives and stole our futures. It branded us as frauds, forcing us to bear a lifelong mark of shame, while never presenting any evidence at all against most of us.
Many of us are destitute, barely able to live from day to day. Many of us are on medication for stress or depression. Many of us have been rejected by our families, who are shamed by the allegation of cheating. Some of us have tried to kill ourselves.
Home Secretary, you have said you are sympathetic. Twice in the last three months we have been promised a statement from you about the Government's next steps, but you have chosen to keep silent. You were given a chance to defend your Department at the recent APPG hearings on this issue, but you did not come.
Home Secretary, you are our last hope and we need to hear from you. Please tell us what our futures will be. It is within your power to put this right.
Best wishes,
Imrose Mustafi
Mohammad Mohibullah
Md Solayman Bhuyan
Noman basher
Qadir Ali
Syed Shah
Rabi Aryal
Fatema Chowdhury
Asif khan
Sumon Ahmed
Munir Ahmad
Roni Mandal
Mohammed Mazharuddin Hussain
Muhammed Shahadat Hussain Murad
Abdullah Al Khaled
Muhammad Rizwan
Muhammad Arsalan Umar
MD Janibush Shams Piyas
Naveed Khan
Ghulam Shabbir
Sheikh Shariful Amin
Md Kamal Hossain
Muhammad Umar
Sohrab Mahmud
Muhammad Hassan Shahzad
Asiya Gul Iram
M Rashedul Hoque
Dilip Halder
Chetan Bhavsar
Jibon Kumar Ghosh
Ahmer Mujtaba Tabassum
Masum
Sadaf Javed Jarral
Raja Noman Hussain
Meer Wais Islam
Wahidur Rahman
Robel Miah
Mohammad Sowkat Islam
Jolly Nath
Tanvir Ahmed
Dipankar
Shazidur
Kiran Uprety
Md Mosiur Rahman
MD Mazhrul Islam
Tuton Bhowmick
Mehedi Hasan
Mohammad Haque
Md Mojibur Rahman
Ubaid ur Rahman
Syed Waqar Hussain
Kamrudduha Rajib
Md Solayman Bhuyan
Kishor Khatiwada
Mudabbir Ali Khaja
Ahmed Waqas
Islamul Chowdhury
Waqas Jawaid
MD Wahidul Karim
S Shah
Syed Ahsan Raza Rizvi
Geeta Rani
Azhar Shahzad
Md Hossain
Ranjit Kaur
Saima Saleem
S M Ashiqur Rahman
Abdullah Al Khaled
Farzana Boby
Al Amin
Jalil Mollik
Sheikh Rasel
Ejaj Ahamed Beig
Md Jewel Ahammad
Muhammad Hanan Naqvi
Habibullah Chowdhury
Maruf Ahmed
Abu Gazi
Khaled Ahmed
Muhammad Zakria
Md Abdur Rahman
Bibi Rahima
Chowdhury
Vikram Kumar
Zul Afros Mozumder
Mahanaz Islam
Noor A Alam
Attique Ur Rehman
Md Forhaduzzaman
Md Rakib Ahamed
Om Bahadur Upreti
Muhammad Mohsin Raza
Mitangi Shaileshkumar Patel
Mohsin Ali
Imran Khan
Abdus Salam
Muhammad Usman
Sajjad
Faisal Iftekhar
Dilshad Shakoor
Md Lutfur Rahman
Muhammad Shebul
Adeel Chaudhry
Ahmed
Rameez Kadir
Abdul Ilyas Mohammad
Tejas Soni
Mahsa Saderyoon
Rashel Hossain
Oliur Hossain
Abdul Jaweed Mohammed
Pronob Maitra