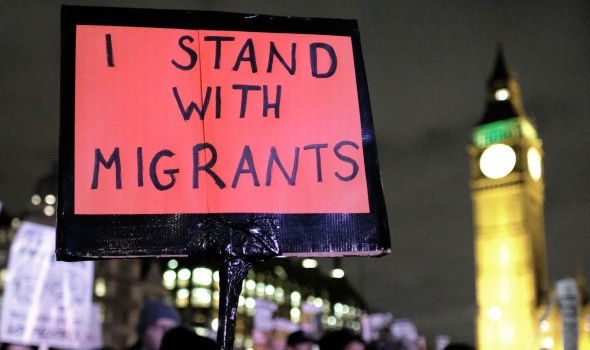 THURSDAY 4 NOVEMBER, 2021
A five-year route to settlement would provide a faster and fairer route to settlement for tens of thousands of people living in the UK.
We welcome recent news from the Home Office that some young people brought up or born in the UK without immigration status will now be able to apply for settlement after five years instead of ten.
But there are more than 170,000 migrants in the UK whose pathway to settlement is ten-years or more. This change in rules will only benefit a small number of these individuals. We need this to be applied to everyone, so that there is no longer a ten-year route to settlement.
Most other routes to settlement in the UK are five years. This extended period of time spent living in limbo forces migrants into years of insecurity, with many pushed into poverty.
At our November National Network Meeting attended by more than 60 people, we listened to migrants' experiences of the ten-year route to settlement, from falling into debt to being unable to pay rent or bills.
On top of this, most visa fees have risen exponentially in the last decade, while the NHS surcharge and the extortionate cost of appointments and other associated costs add hundreds of pounds to each application.
A family of four on the 10-year route to settlement can expect to pay in excess of £50,000.
The costs to migrants aren't just financial - many families suffer mental and physical health problems, with some families sacrificing food, heating and electricity to pay for their visa fees.
"It's stressful and challenging, thinking you have to constantly do this every two and a half years," said one migrant at our meeting, who is a single parent supporting three children.
"It's disturbing and alarming. The [Home Office's] aim is to frustrate us and make sure we don't even exist."
Another migrant at our meeting described how she is struggling to pay the visa fees she needs to stay in the UK.
"The 10-year route has done so much damage in my life, I don't know where to start and don't know where to finish," she said. "I work, pay my bills, and I'm left with nothing."
"The financial cost is huge," one of our members previously told us of their experience. "The social and mental toll is even higher. I have ended up with high blood pressure, heart troubles, stress and depression."
This latest concession from the Home Office is welcome news. And it shows that change can happen. But this change needs to be extended to people of all ages.
If you want to see this change, join our Visa Fees campaign.

Read the new government guidance for the rule changes here
Image credit: Alisdare Hickson/Flickr, resized and licensed for use under CC BY-SA 2.0