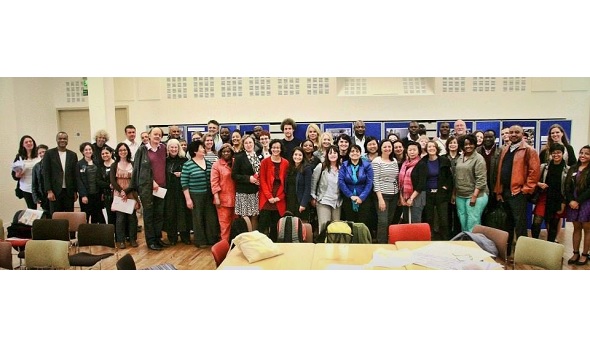 This week marks ten years of the journey of Migrant Voice from an idea to a well-recognised UK charity.
The idea was borne out of the anger, frustration and feelings of helplessness in the face of increasingly negative perceptions and behaviour towards migrants, and the decision to turn them into positive energy and a plan of action.
The lead up to the 2010 general election was a time and a space from which we were absent. A huge debate was taking place about migration, and everyone was talking about migrants except migrants.
I personally felt that migrants were like a ball in a football game, kicked from one place to another by big players in order to compete and win. Migrants have always been used as a scapegoat for failed policies and the ills of society – the perfect vote winner – and this was happening more and more.
But what about us the migrants – the families, workers, neighbours and fellow citizens? It was obvious that we needed to speak out and engage, mobilise and organise, and claim back our rightful place in society and the country we now call home.
The idea was not an idea for very long. It quickly sparked a flame of passion and commitment to speak for ourselves and develop our knowledge and confidence to do so. People came on board, wanting to engage in the debate taking place about us without us and claim back the story of migration, our story, making this a safer and a fairer place for our families and community.
There was no time to waste. From small talks with individuals to larger meetings with migrants and British activists and supporters across London, Birmingham and Glasgow, our movement was shaped and refined – and so Migrant Voice was born. Many of us there at the beginning are still at the heart of the organisation today.
Our work mobilising migrants to speak out inspired a number of migrant organisations and groups around the world who have contacted us to learn from our experience.
And we migrants were not alone. Many Britons accompanied us on our journey and supported our work throughout. Among them are journalists, academics, students, artists, dentists, florists, neighbours and friends, and many others.
At times, I have been overwhelmed by the passion and commitment of the people who have joined, supported and worked for Migrant Voice. People are at the heart of the organisation; they make the organisation.
It is an emotional time for me and my colleagues to look back at the past ten years – the people who joined our experiment, the stories told, the connections made and the long-lasting engagement and friendship.
Ten years ago, I was very concerned about the direction of travel of the migration debate and the impact this was having and is likely to have on my family, my children and migrant communities. And I wasn't alone – many others who joined our movement felt the same.
I wanted to change the direction of travel and there was only one way to find out if this endeavour could succeed – to do it. Even if I was not successful, I wanted to be able to look my children in the eye one day and tell them that at least I did my best.
Thousands of people have engaged with Migrant Voice, hundreds of stories have been told, hundreds of migrants have been heard and solidarity and friendships developed.
Amongst my proudest moments and activities is the annual Migrant Voice newspaper, which we produced over four years. This newspaper meant a lot to us. It is where we bared our life and soul, transformed them into ink and splattered them across the pages, then gave it to you (the public) from our hearts to your minds. It is where we carried our hearts and our stories in our hands and handed them over to the people on the streets – at train stations, universities, and even Parliament. This is where we wrote our own stories and told them without a middle man.
Perhaps Migrant Voice's biggest achievement is that it has created a community, a space for people like me who at times felt like a stranger, to come and be who they are, to be heard without judgment and to be treated as the human beings they are. Migrant Voice is a community of people from around the world who became a family, a place to belong, and almost a home.
I am privileged to have met so many people who trusted me and shared with me their life story. I am honoured to have met so many people who have given their time, energy, skills, passion and commitment to help Migrant Voice and to make it the organisation it is today. I am grateful to all those who supported us, and humbled to have worked with great people who believe in changing the world and making it a better place, a place to call home.
Read about how we're celebrating 10 years of Migrant Voice here.
TOP IMAGE: Migrant Voice conference, 2013