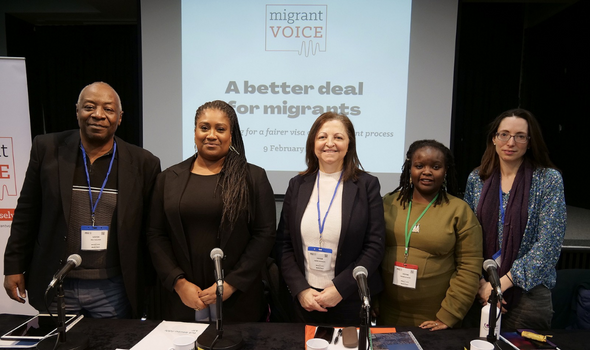 You want to settle in the UK? The government website, Check if you can get indefinite leave to remain, makes the process look clear and straightforward. But anyone having tried to navigate the visa application and settlement process can tell you otherwise. They know that you risk drowning in a maze-like, expensive, time-consuming bureaucracy.
It is such an unreasonable, malignant, costly procedure that at a recent Migrant Voice conference, 'A better deal for migrants', a senior union official, Wilf Sullivan, the Race Equality Officer at the Trades Union Congress, called for "a proper conversation about the settlement route process… We can't have a state system, which is built on exploiting people that come to this country."
Others echoed his call, in turn echoing a Migrant Voice report, Destroying hopes, dreams and lives: How the UK visa costs and process impact migrants' lives, in which we called for:
A reduction in visa fees for adults to administrative costs only (down from the current cost of 7-10 times the cost of the actual visa), and abolition of fees for children
Abolition of the Immigration Health Surcharge (which amounts to double taxation since, like everyone else in the country, migrants pay their share of the NHS through taxation)
A cap on routes to settlement at five years, so no one should have to go through the ten-year settlement route
The speeding up and improvement of Home Office decision-making and communication with visa applicants
Introduction of a quicker, simpler, less stressful visa application process
The inequities and iniquities of the system often push applicants into debt, poverty, mental and physical ill-health and threaten family relationships. They eat away at the whole fabric of society.
The facts have been so thoroughly documented that there can be no reason, except inertia, for failure to implement reforms. The anger and frustration experienced by those painfully struggling to walk the five- and ten-year routes to settlement were palpable at our recent conference.
Shocking stories of maladministration and the crippling weight of unfair rules and regulations were shared. One apparently small example amidst the human toll illuminated all the wrongs: a tiny mistake made filling out a Home Office form results in the applicant being told to start the whole process again, with no reimbursement of the fee. People who can't make thousands of pounds of payment again end up falling out of status.
Why does the Home Office inflict this punishment when in most other countries the authorities simply phone the applicant to point out that a small error has been made and needs to be corrected?
The government has said it is acting to restore competence to administration, and we believe that bringing fairness and common sense to our visa system would be a game-changing statement of national aspiration. Similarly, the Labour Party is currently drawing up a new election manifesto, in which immigration reform should be an essential policy.
As Wilf Sullivan told our conference, our "horrendously complicated" system is "highly exploitative" and indeed traumatic.
"How much of an exploitative society do we want to become?" he asked.
How Britain answers that question is key to the country's future well-being.