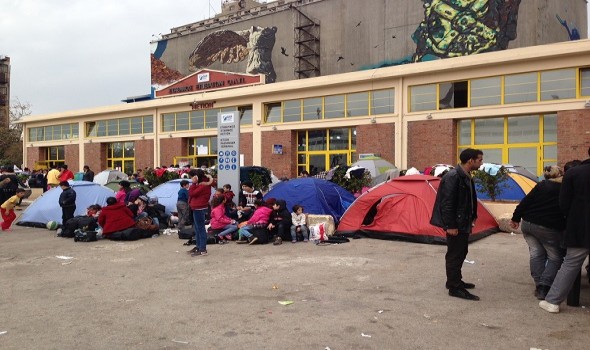 As Europe was negotiating the 'one in, one out' deal with Turkey, and two days after Macedonia shut its border, I went to Athens to find out more about the situation and to speak to what I thought to be the last groups of refugees reaching the shores of Greece.
My first destination was the Piraeus seaport, 20 minutes by train on the Green Line from Monastiraki station in Athens city centre.
I followed directions there from Voula Antwan, who with her husband founded the humanitarian organisation 'Bridges'. She told me I will find the refugees at the 'Hetion' (Gate) E2. "Go and speak with them" she encouraged me after my meeting with her to catch up on the developments in Greece and to learn more about the work her organisation is doing. "They will feel human again when you speak to them in their own language", she told me, as she knew I spoke Arabic.
A restaurant with signs in Greek and Arabic is located at the entrance close to the E2 Gate. A thin and orderly row of tents lines up on the pavement leading to the main gathering area where the Red Cross and other NGOs are present. Refugees are given tents upon arrival. The refugees at the Piraeus reception centre are brought there by ships from the five Greek islands they have arrived at by sea from Turkey: Lesvos, Kos, Chios, Samos and Leros.
At Pireaus, I met Mohamad, a man in his late twenties, clutching his four-month-old baby girl Fatima. She was born in Turkey, he tells me, while showing me around one of the main big halls at the port, housing over three hundred refugees. The majority of them are women and children crouching around their small overcrowded tents, their home for the time being. Mohamad's wife Hanna joins us having given up queuing for food after waiting for almost half an hour. There were two long queues outside the hall; one for men and another for women. The meals are provided by charities. Hanna said that her back is hurting from standing for too long. She would try again later if the queue becomes shorter and there is food left.
The conditions at this reception centre were not too bad. The main problem is the lack of warm water to wash or bathe, but an NGO was trying to solve this issue and the refugees were told to except hot water in the next couple of days.
The young family has left Aleppo just over four months ago. They crossed to Turkey where Fatima was born, and spent a whole month trekking up and down the western Turkish coast until they succeeded in getting on a small boat and making their way to the Greek Island of Kos 3 days ago. They were among the new arrivals brought to Piraeus from there on a large ship by the Greek authorities.
I asked Mohamad if the smugglers were Turkish, he confirmed this but said they were also working with Syrians, Iraqis and others. I asked him if the small boat they took from Turkey was a rubber one and he said no, it was a normal wooden small boat, which is designed to carry no more than twenty people. The Turkish smuggler managed to squeeze 60 people on board. Many of the passengers were Syrians, but there were also Afghanis, Iraqis and other nationalities. I asked Mohamad to tell me about his 4-hour journey from Turkey to Greece. He said it was the worst experience of his life. He was still traumatised by it, he told me while holding his baby tight to his shoulder. "I stood next the captain of the boat", he said. "He was a nice man. 10-20 minutes after sailing he showed me a light and told me that this is Greece. He then jumped on to a small boat and headed back to Turkey. I said to him where are you going? You cannot leave us on our own. He told me that not to worry, just follow the light. He also said that one of the people on board, a young Algerian man, would sail us through to Greece". Mohamad discovered that the smugglers had trained the Algerian man to sail the boat in return for a free ride. "I told the Algerian man to turn the boat back to Turkey, but he told me he did not know how, "I am only trained to sail forward," he said".
Mohamad felt helpless and became terrified. His wife threw her life jacket shortly after she got on the boat as there was no room due to the large number of people cramped on the boat. Their fate was now in the hands of God explains Mohamad who could not contain his anger and shouted at the Algerian man: "How could you risk the lives of 60 souls to save 1500 euros".
"I do not recommend this to anyone", muttered Mohamad. "If I had known that the journey was going to be this dangerous, I would not have taken it. My brother is trying to leave Syria; I told him that whatever happens he should never get on a boat and make the same journey."
Mohamad was planning to continue his journey across Europe. He was not aware of the relocation scheme. I suggested "why don't you register with the scheme, at least you will be put in a hotel and later on you will be moved safely to another country."
Two young Syrian men joined us in the conversation and expressed their doubt about the relocation scheme. This may take very long time, they explained. "You do not have a choice where to go; you could end up in Australia or another country far away from friends and family". I asked them where they wanted to go. One said that he is going to join friends in Luxemburg and the other said that he did not mind as long as it is a good country. "Why not stay in Greece," I asked the young men who just returned from Idomeni on a 7 hour overnight bus ride. They have spent a couple of days at Idomeni but could not stay there or cope with the dire conditions after Macedonia closed its border. "There are up to four thousand people stranded in the mud, cold and rain there," they told me. "An old man has just died because of the conditions there and a child was electrocuted." I checked later with a colleague from Medecins Sans Frontieres (MSF) who told me that the child was treated and is still alive. The two young men told me they will wait until the Macedonian border opens or explore another route.
"There is no prospect for us in Greece, but most importantly we want to be with our family and relatives", they said. Mohamad's destination was Germany where he already has cousins and other relatives.
I pleaded with them to give the relocation scheme a chance and try to move safely. I wished them good luck and gave them my card. I asked them to get in touch and let me know about their journey and their new life once they reached their final destination.
I did not see many policemen or Greek officials at the site I visited. It looked to me like the place was run by a number of NGOs with lots of volunteers. One of the volunteers I met was a young French Algerian man. He took a week off work and paid his own travel to stay with friends in Athens. He spoke three languages and could offer valuable translation services. He, like many other volunteers were worried about the risks the refugees are taking and were very keen to pass on the right information to the new arrivals to stop them risking their lives.
A British volunteer approached me to ask who I am. "How do I know you are not a smuggler" she asked. She was still not very pleased as I explained who I am and gave her my business card and she vented her anger at the UK Prime Minister. I guess this summed up her feelings about the UK response to the current refugee 'crisis'.
Back to Athens I arranged to meet with Yonous Mohammadi, the Director of the Greek Refugee Forum and his colleagues from the migrant led sector with a colleague from PICUM (Platform for International Cooperation on Undocumented Migrants).
Yonous told me that the Forum's member organisations are currently prioritising and focusing on helping with interpreting and cultural mediation. He said that there is a lot of fear and mistrust among the refugees towards authorities and official bodies. This is why their role is important; there is a great knowledge in the community of how to deal with the situation faced by the refugees and more trust than of the authorities.
Yonous was keen to mention the positive developments as well as the difficulties facing migrants and refugees. He said that there is now a Ministry of Migration in Greece for the first time. It was established in February 2015. There are also councils for integration set up by municipalities. These were working in Athens but not yet in other parts of the country. There is a climate of solidarity as opposed to earlier hate speech, which was used by both the government and the media, explains Yonous. "The new government changed all this," he added. "Also the media has changed; you no longer hear the world 'illegal'. Yonous explained that there are no more attacks on migrants. Greek celebrities are coming out to support refugees and the Greek people are showing great solidarity with the refugees. There is still some hostility, but this is too small compared with the level of solidarity shown by the public. The big concern is the long-term impact if there is no solution or cooperation between EU countries.
There are less than 40.000 refugees in Greece at the moment, Yonous added. He told me that the Greek authorities, working with Frontex and others in what is known as the 'Hot Spots', deported 40 Pakistanis and Bangladeshis to Turkey in the last week up till the day before (8 March). A further 360 Moroccan and Algerian nationals were taken from detention centres and were also deported to Turkey.
It felt to me then that the deal between Europe and Turkey is already being implemented before being officially finalised, approved and signed.
There are two main challenges for the Greek migrant NGOs: the current 'crisis' with the new arrivals and those who have been in the country for many years. The latter group are not in employment and live in dire situations, especially those who have been in Greece for 10-15 years and still haven't had an answer on their asylum applications.
The current asylum process in Greece takes place via Skype Yonous told me. "Asylum seekers need to access a Skype or other technology with a camera. Only when their photo is taken, they can get an appointment booked to meet a person to apply for asylum." He added that there are only a limited number of hours with provisions of the different languages on skype and there is only one Skype name for everyone to contact, which adds to the delays in kick-starting the process. The bigger barrier of course is the access to Skype.
On arrival to the Greek Islands the 'Hot Spots' provide a registration document for one or six months. Syrians are now given six months automatically. Pakistanis, Moroccans and Algerians are detained immediately, while Eritreans, Sudanese and Somalis are still covered under the refugee category.
There are thousands of undocumented minors with no formal protection. Only NGOs run some programmes for the minors who largely do not want to stay in Greece. Many do not say their real age and claim to be older, and the Greek authorities are also turning a blind eye. The minors are and have been exploited for many years, including sexual exploitation. It is easy to exploit the minors as they have no money of support.
A Syrian doctor, who is settled in Greece and is now volunteering to assist the refugees, describes the situation as 'freak'. "Even if given documents, they[the refugees] do not want to stay in Greece" he added. He also acknowledged that the Greek language, the lack of support and the financial crisis are among the reasons why refugees do not want to stay in Greece.
The UN relocation process is not properly functioning yet as many European countries are not cooperating, and many migrants do not want to go to certain countries. At the time of my visit, only up to 700 refugees were relocated, and only 1300 pledges were available from EU countries but these have conditions attached such as health checks.
My final evening was to be spent with Dina Vardaramatou from Praksis who brought to life the trauma and the daily experiences of the Greek NGOs working with refugees.
"Some of the stories and experiences will live with me forever", she confided in me. To put me in the picture, she told me the story of a Syrian family with a 3-5-day old baby. The family was referred to her from one of the reception centres for medical assessment and hospital referral. The mother had given birth to the baby four days earlier and hours before getting on a rubber boat to make the perilous journey from Turkey to one of the Greek islands. The family spent a day or two on the Island before been assessed and transported on a ferry to the mainland by the Greek authorities. The fourth day in the baby's life on the road proved to be too much. When she arrived at Dina's centre, the baby was very ill with a high temperature and needed to be hospitalised. The father who was carrying his baby looked at Dina in despair and told her that the family has to keep moving and they cannot send the baby to hospital. He asked if the baby could be given medication to take on the road. Dina told the father that his baby might not make it. The father said that he had paid all his money to the smuggler who was expecting him to move on today or he would lose everything. He had nothing left and he had no choice but to keep going.
Dina and her colleagues were heartbroken but equally helpless. There was nothing they could do to stop the family from moving on in order to help the sick baby. Dina wrote a few words in German on a sheet of paper explaining that the baby is very ill and needed urgent hospital treatment. This was to help the baby access the urgent healthcare she needed, if she made it alive, when her parents arrived to their final destination, Germany. Dina's colleagues informed her later that the baby was still alive when the family crossed the border from Greece.
Other colleagues from MSF told more stories about the heart-breaking situations for many families and spoke of 'dead babies in fridges'. Presenting at the Epim (European Platform for Integration and Migration) meeting I was attending with colleagues from the UK and a number of European countries, the MSF colleagues explained that babies who have died during the journey are left behind. Their parents feel they have no choice but to move on in order to save the rest of the family. Sometimes they leave one family member behind as the legal process of identifying the cause of death takes its course.
It was very clear that our Greek colleagues are overwhelmed with the emotions of dealing with the humanitarian situation on their shores, streets and borders. They are also questioning Europe's response and lack of cooperation and solidarity. They are very critical of the UK's position and reluctance to do more to help.
As the EU-Turkey deal comes into effect there are many unanswered questions, but most importantly: What will happen to the human beings at the centre of all this. This deal is trying to act as a deterrent, break the smugglers, and 'teach people a lesson' but misses the points why people leave their countries and why they make these treacherous journeys. It does nothing to address the root causes and or offer legal routes for people to take instead. While Europe puts up fences, and shifts its humanitarian responsibility elsewhere, people desperate to leave their countries will take still greater risks on other routes.
Nazek Ramdan, Director of Migrant Voice