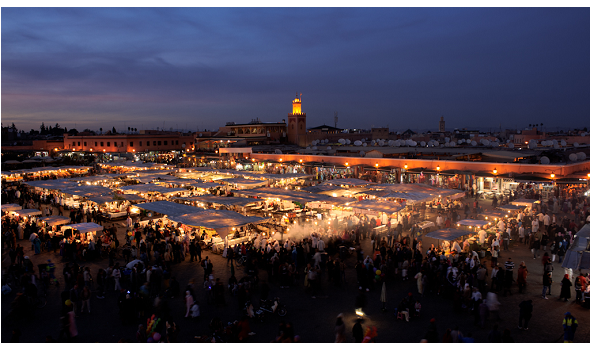 Marrakesh is known mainly for its bustling markets, exquisite palaces and enchanting gardens.
But from 4 to 11 December, the Moroccan city is playing host to the Global Forum on Migration and Development, an annual event that brings together hundreds of civil society organisations and government representatives to talk about the opportunities and challenges of migration. This year's theme is 'Goals, compacts, action: human mobility that works for migrants and society' (#ForMigration).
Migrant Voice is delighted to be represented at the forum by our director, Nazek Ramadan, who is also representing the RISE network (Refugees' Ideas and Solutions for Europe), a group of migrant and refugee-led organisations from 17 countries across Europe set up to make sure migrant voices are heard and contribute to the development of immigration policies.
The forum's civil society days (4-7 December) put migrant voices first and offer an unparalleled opportunity for organisations seeking to expand migrants' rights and amplify their voices to meet, learn, and develop partnerships for the future – and to engage with politicians with the power to change policy.
It's the result of years of lobbying by a host of NGOs, led by the International Catholic Migration Commission.
And while the challenges for migrants and their advocates have not diminished, we must not cower in the face of them.
We are calling for this forum to be one of bold action. We call for the expansion of existing legal routes for migrants and the creation of new ones, an end to the criminalization of helping migrants, the annulment of inhumane deals with Libya and Turkey, a U-turn on the deportation of migrants to unsafe countries, and the closure of all immigration detention centres.
We need a humanitarian approach to both forced and economic migration, an end to the politicisation of rescue efforts and the eradication of far-right rhetoric and policies that scapegoat, exclude and discriminate against migrants.
While the African Union is working on welcome plans to open up the continent's borders and encourage freedom of movement, we in Europe are building fences, externalizing our borders and impounding rescue boats.
In the UK – often viewed from abroad as a country welcoming to migrants – the trend is the same. The government's bid to drive down net migration is leading to growing numbers of arbitrary and unfair deportations and visa refusals; thousands of migrants are kept apart from their families by absurd income thresholds, and thousands of others languish in detention centres for months or even years, with no time limit on their incarceration.
Migrant Voice is not alone in demanding change. Migrant and refugee organisations across Europe – many of which we are delighted to work with through alliances such as RISE and PICUM (Platform for International Cooperation on Undocumented Migrants) – echo our call for a new approach to migrants and migration, one guided by humanity and an awareness that migration is both natural and beneficial, for migrants, host countries and countries of origin.
We're pleased that many of our calls are also echoed in the Global Compact for Migration, the result of two years of international negotiations and due to be formally adopted at the Global Forum on 10-11 December.
It's full of concrete proposals that, if implemented, would introduce a global system of migration that is humane and rights-based, rather than inhumane, disordered and discriminatory.
But – and it's a big "but" – the compact is not binding and "doesn't force anyone to do anything", in the words of EU Migration Commissioner Dimitris Avramopoulos.
In other words: you can sign this and you won't have to do anything differently.
We are also extremely disappointed that the United States, Israel, Australia and several European countries – including Hungary, Austria, Italy, the Czech Republic, Bulgaria and Poland – have withdrawn their support for the compact.
Perhaps there's value in the symbolic worth of the document. Perhaps some countries will change their policies based on its recommendations anyway. Some already have and are true champions of migrants' rights – they will be sharing their achievements at this year's forum.
The compact offers many of the answers to the challenges facing migrants in today's world, including those described above.
We urge more countries to take this document – a vision of a different, more humane world – and implement it. And we urge those that have backed out to change their mind.
There is much work to be done – but the Global Compact on Migration gives us a roadmap to achieve it.
Follow Nazek's updates from the forum via our Twitter page and get official updates via @GFMDprocess and @GFMD_CSD. Hashtags are #ForMigration and #GFMD2018.
TOP IMAGE: Djemaa el Fna at sunset. Marrakesh, Morocco, 2011 (Juho Kuzu/Flickr, CC by 2.0)