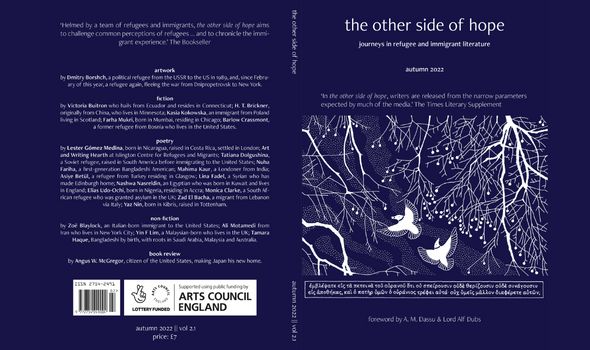 "We wanted a space where people with refugee background or immigrants could feel they could exercise their voice, but for an audience that is compassionate and interested."
the other side of hope is an online literary magazine aimed at highlighting migrant and refugee narratives and creating literary spaces for people to tell stories related to migration, asylum, and settlement.
Based in the UK, it publishes work by writers from around the globe. Many members of the editing team are themselves migrants and refugees.
The twice-a-year magazine features a variety of genres and styles, from nonfiction to poetry, from essays to interviews, including powerful pieces by authors such as migrants rights activist Loraine Masiya Mponela, British-Syrian poet &andwriter Amir Darwish, and Turkey-based Mehdi Hamisi.
Migrant Voice sat down with the founder and the non-fiction editor of the other side of hope, Alexandros Plasatis and Maria Rovisco, to discuss the publication's origins and goals, and the importance of literary platforms like theirs in the moment of such widespread backlash against migrant narratives.
Alexandros and Maria both use an inclusive approach to their editing, working directly with authors and helping people shape their stories into their literary vision. They both came to the other side of hope through other projects, where they realised that allowing migrants and refugees to work in spaces where they felt free to voice what they had experienced was necessary and helpful to change negative media narratives.
Alexandros is from Greece, where he says his everyday experiences with migrant communities led him to thinking about working in this field.
"When I was growing up, and until I was fifteen or so, I was living in a small town, so I didn't know any refugees. I knew some immigrants, the Egyptian fishermen that I used to sort of work with. I think one of the reasons I left was because I didn't like the way Greeks treated immigrants. I didn't like the way my friends at the time or even my family or the local people would treat the Egyptian immigrants that I knew."
His childhood in Greece combined with creative writing workshops he led with refugees in the UK inspired him to start the magazine.
Maria, whose own research focuses on the arts as a site of citizenship, points to the lack of migration-based literary magazines before the establishment of the other side of hope.
"One of the problems we have in the UK is that there are not spaces where people who are members of minorities can have a voice and can feel comfortable also to talk about who they are and tell their stories," she says, referring to the magazine's ability to impact debates on migrant issues.
She points out that migrants and refugees are constantly asked to tell their stories by the Home Office or by police, but never in a creative way. The magazine is a means of establishing an audience of "normal citizens who actually care".
Contributors are highly diverse, in terms both of nationality and writing experience, Maria says. The aim is to exhibit the most diverse set of voices possible, she explains, and the editors want people to tell their own story even if they lack experience of writing or writing in English.
Alexandros emphasises the "non-stop work" that the team puts in to each issue, and the reward of hearing that some refugee centres around the UK hand out the magazine for reading groups.
As migrants, the editorial team's own experiences influence how they are able to edit and promote the work they are sent.
They note how often humour is used in submitted stories and essays. "You know, you can say something that is tragic or traumatic with humour. And that's not something I often saw before and I thought it was important and powerful," says Maria.
Even the name of the magazine is taken from a Finnish comedy film about a refugee. Says Alexandros: "[humour] is also what makes us human in a way... no matter how bad things get."
The Winter 2022 issue of the other side of hope will go online in December.