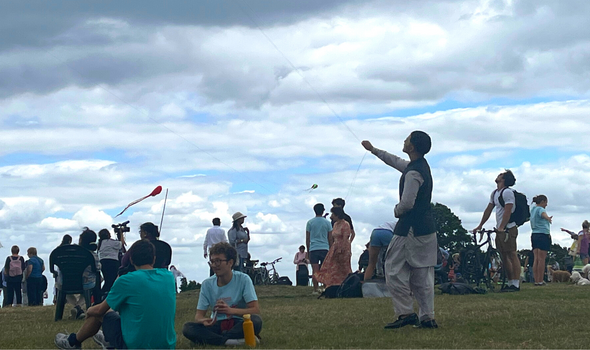 A dozen colourful kites flew high in the wind, their owners carefully pulling and releasing their long strings, and about 100 people watched as they listened to music from Afghan musicians and drank tea.
The crowd had gathered on Parliament Hill in Hampstead Heath, London, last Saturday. In 20 locations across the UK and Europe, others were doing the same: communities came together for Good Chance's Fly With Me event, a "festival of solidarity" with the people of Afghanistan involving kite flying, music and poetry, one year after the Taliban takeover of the country.
If you have not heard of Good Chance before, you are still very likely to know some of their projects. The theatre company wrote and staged The Jungle, a 2017 play about the lives of migrants living in the Calais Jungle refugee camp, which has toured theatres in the UK and US.
And last year they were behind Little Amal, a 3.5-metre-tall doll representing a young refugee child, "walked" from the Turkish-Syrian border to Manchester, with events in support of migrants and refugees organised in dozens of cities along her journey.
Fly With Me was developed by master kite maker Sanjar Qias, actor Elham Ehsas, musician Elaha Soroor and other Afghan-born artists around the UK and Europe.
The crowd on the Heath was made up of children, families, young adults, and not-so-young ones. More than a handful of languages could be heard spoken, and some Afghan participants wore traditional clothes, intricate patterns embroidered on their fabric.
Actor Elham Ehsas, who played young Assef in the 2007 film The Kite Runner and who was involved in the development of the festival, introduced the event. "Throughout our lives our flag has changed so many times," he told the crowd, "but we've continued to fly kites."
Volunteers wearing sky-blue t-shirts handed out Afghan tea. Three members of the Mahmoudi family, father Yusuf, his son Ariz and nephew Roman, musicians for generations, played tablas (a type of drum) and a harmonium and sang traditional songs, while some attendees gave in to spontaneous dancing.
Musician Elaha Soroor, who was one of the first female artists to perform in public after the fall of the Taliban, sang from the Parliament Hill Bandstand, and poet Parwana Fayyaz read out poems from her book, "Forty Names".
Music is now banned in Afghanistan, Yusuf Mahmoud, the musician, reminded the audience. So is kite-flying. And yet, despite being thousands of miles away, regardless of distance and borders, they persisted: the beats of the tablas, the kites flying over our heads, the poems recited.
"For every flying kite, there is a story," Ehsas had said earlier: kite-flying is an integral part to Afghan culture. Looking up at the sky, I observed the kites that I could see, imagined the ones that I could not, and thought of all the stories they told.