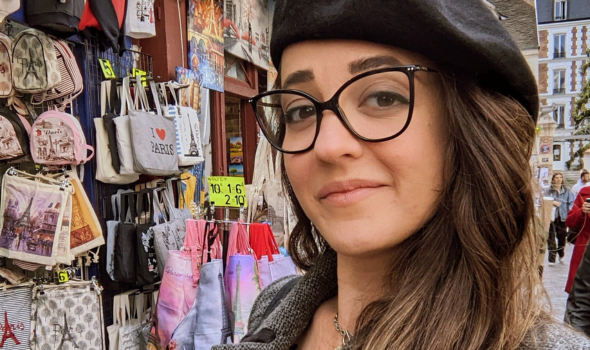 My name is Ridete, I am a Brazilian resident in London working as a legal assistant. I moved to the UK in October 2020, defying the challenges of the pandemic to be with my partner, leaving behind family, friends, and familiarity. However, one crucial element has been missing to make me feel truly at home – the right to vote. I often hear that migrants should not have the right to vote because they are not committed to the UK. I don't think I can show any more commitment than I already have.
As soon as I was allowed to move, I eagerly made the journey to the UK. Unfortunately, due to the pandemic, my initial months in London were spent confined to a room, working from home instead of exploring my new city and forging new friendships. Despite the challenges, this experience only strengthened my commitment to being here.
Since making the UK my home, I have been contributing to the community by volunteering with local organisations such as Willesden Green Town Team and Family Action. Whether it's maintaining green spaces in the neighbourhood or distributing food to families in need, my involvement has allowed me to connect with local residents and demonstrate my commitment to this beautiful city.
However, because my only citizenship is Brazilian, I am unable to participate in the democratic process. My partner, on the other hand, is Italian and can vote. My Brazilian friends in Scotland and Wales can also vote. This discrepancy has fueled my passion for advocating for the extension of voting rights to migrants like myself. I firmly believe that access to democracy should transcend nationality.
Last month, I had the privilege of joining a tour of Parliament with the Migrant Democracy Project. Surrounded by fellow migrants from Ukraine, Syria and Iran, each yearning for their right to vote, the experience was both inspiring and enlightening. Walking through the historic halls, and learning about the struggles of those who fought for voting rights in the UK, further inspired me to bring about change. During the tour, we met with MPs to share our stories and ask for an extension of voting rights.
Politicians have recently been on the news proposing the extension of the right to vote to EU citizens in General Elections. While this development is a step in the right direction, this proposal needs to include all migrants. While I am happy for my partner and other EU citizens, I strongly believe that every resident, regardless of their nationality, should have the opportunity to participate in shaping their community and country.
The implications of denying voting rights extend far beyond the ballot box. For instance, when I check my credit score, it is never "excellent". The reason? I am consistently marked as "not confirmed on the electoral roll." This obstacle negatively affects my financial opportunities and perpetuates an unfair system.
I also wish to use my vote to reward politicians who have represented me. When I emailed my local councillors in Brent regarding road safety, my concerns were promptly addressed, reaffirming the power of civic engagement. I appreciate that Brent also passed a motion in support of residence-based voting rights for all. Furthermore, London will hold elections for the Mayor next May. I am heartened to know that our Mayor supports residence-based voting rights, as demonstrated by his favourable response to the London Assembly's motion in support of the extension of the right to vote.
Voting eligibility is puzzling. Some migrants are fortunate enough to possess the power of the ballot, while others, like myself, are excluded. This discrepancy highlights the need for a simpler, fairer system - one that grants every resident the right to vote, regardless of their background or nationality.
As a Brazilian resident of London, I am proud to call the city my home. However, the absence of voting rights hinders my sense of belonging and active participation in shaping the future of the place I have chosen to reside. By levelling the playing field and ensuring that no migrant group is singled out as more deserving than another, we can achieve a truly equitable democratic society.
---
Ridete Pozzetti is a legal assistant and a Brazilian resident in London, whose passion for voting rights and creating a fairer democratic system knows no bounds.
Image credit: Courtesy of Ridete Pozzetti