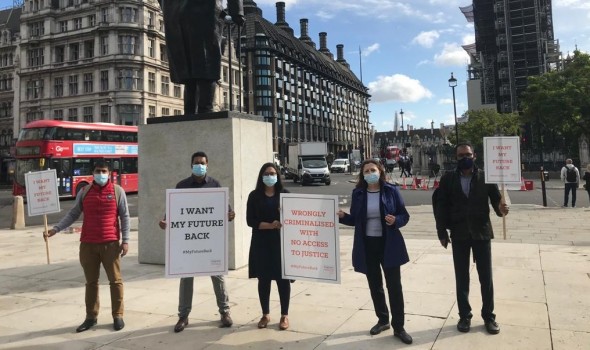 What can a small under-funded, under-staffed migrants' NGO do in a world of state power, multinational corporations and a hostile environment?
It's just a minnow in an ocean, I hear you say.
And, yes, picking up the dry-as-dust Migrant Voice recent annual report for the year ended March 2021, I ask myself, "Why bother to read this? It will be a heap of facts and figures and I'll just get depressed wondering how on earth a small organisation can make an impact in an intolerant world?"
My bad, as they say on the street.
The report turns out to be a heartening account of how much a handful of enthusiastic people can achieve even in a year disrupted by Covid-19.
For example:
The website was redesigned; work moved online and the number of migrants' meetings and training sessions multiplied; a regular newsletter was distributed with "tip-lists" and information about activities and Covid
Cup'a'Tea social gatherings enabled members to keep in touch, catch up and avoid isolation
The UK Migrant Voices for Change Network in London, West Midlands and Glasgow was strengthened
The Scottish branch became a charity (a move that sounds dull and bureaucratic but involved weeks of painstaking work and opens the door to a new range of funding and activities)

Partnerships – which magnify Migrant Voice's work – also grew. There are too many to mention but include migrant and refugee organisations, TV diversity panels, trade unions, research and community groups, parliamentary and Lords committees, universities, student bodies, city councils, human rights organisations, anti-trafficking NGOs, equality, anti-racism and anti-poverty networks, and the UN.
Collaboration doesn't simply mean sending emails. It involves advising and influencing media, running workshops, awareness-raising, doing surveys, advocacy at public meetings, research, participating in public meetings, pushing people and organisations to implement good practice around integration of migrants, preparing toolkits and always, always helping migrants get onto public platforms and promoting change – in attitudes and policies.
Campaigns and advocacy in the year under review focussed on the rights of EU nationals; the My Future Back Campaign, fighting for justice for thousands of overseas students who were wrongly accused of cheating and chucked off their university courses; the campaign against extortionate visa fees; work with undocumented migrants.
Any one of such campaign is really a full-time job, but Migrant Voice managed to keep them all active. Its interventions ranged from a demo (and photo opportunity) outside parliament, prompting journalists to cover the issues, lobbying ministers and individual MPs and writing briefings for politicians, supporting three students to write about their problems in a book on the hostile environment, developing surveys, helping organise media interviews for members, liaising with lawyers and actively intervening in a court case which Migrant Voice hopes will establish an important precedent.
Sometimes specific action produces an instant result.
For example, an interview with a Migrant Voice member led the Channel4 news and another made The Guardian front page which later that day contributed to a Government U-turn abolishing the NHS Surcharge for health workers.
Mostly, however, interviews, reports and demos influence policy in subtler, longer-term ways – like the Migrant Voice-led Building Resilience project. It aims to help migrant communities most marginalised by Covid, and the work ranged from providing spaces for migrants to share experiences, a session on how to engage your MP, making campaign videos and preparing a report that got good media coverage.
Similarly, the MiFriendly Cities project ran six Media Labs with participants from Birmingham, Coventry and Wolverhampton and followed up with weekly "newsroom" sessions to produce content. The result was skills enhancement and an online and glossy magazine marking Black History month.
A Volunteering for Change project in Glasgow produced this glowing testimony:
"Volunteers have told us that the project helped to increase their skills and confidence through taking part in a wide range of training opportunities, improved their mental health and wellbeing, helped them meet new people and improve their career prospects.
"For some, the skills and confidence they gained from volunteering encouraged them to go back to college and university. A number of them found jobs using their experience with us. For the volunteers who were migrants, they told us that volunteering helped partially replace the links and ties they lost in the act of migration, creating a new sense of belonging,"
I could continue with my report of a report: this is just a taste. I haven't even begun to cover the pioneering Meet a Migrant project, or the research activities, or the scores of details of interviews, programmes and policies, let alone the time spent organising, fundraising, monitoring and all the other activities that keep the show on the road.
But I hope you've got the picture. One small migrant-led organisation can change lives, shift policy. It can help, challenge, inform, educate, support, and promote solidarity and equity.
The environment is hostile, time is short, money is scarce, hope looks pollyannish. But look at the small print, at its many activities, at the efforts of its members, and you see an organisation that consistently achieves a great deal. You even see hope.